Highlands PAC Youth Theater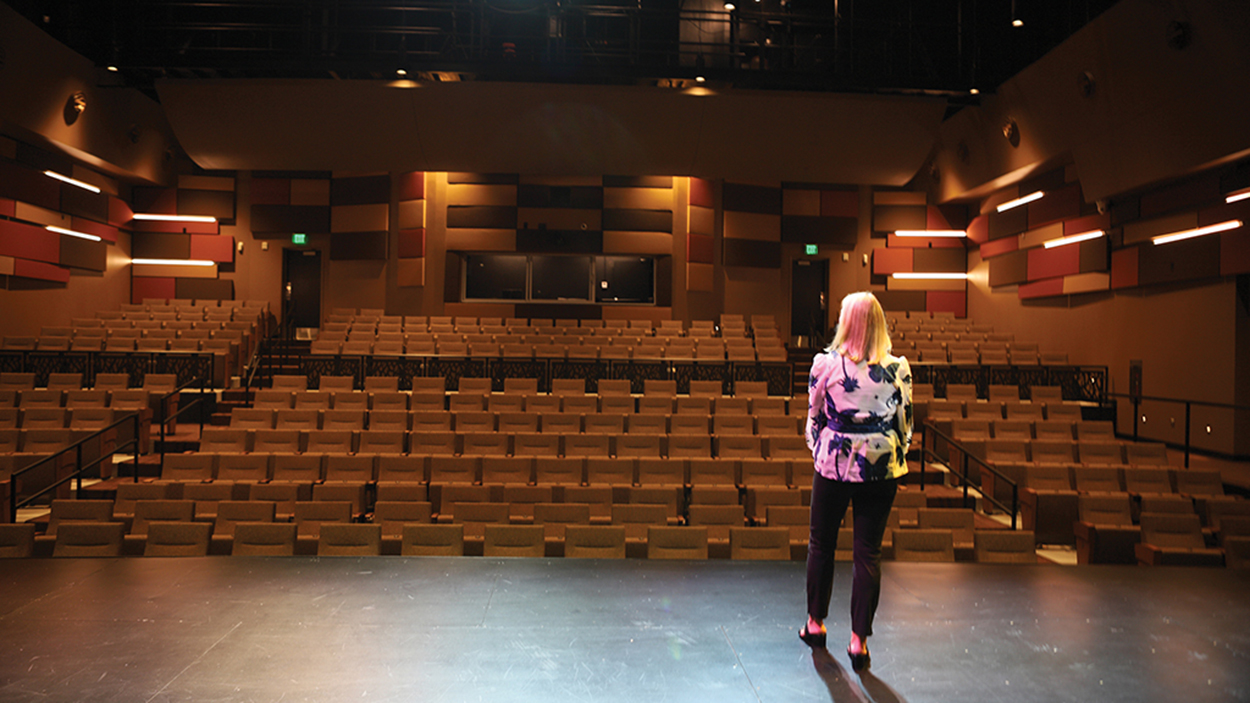 Written By: Marlene Osteen | Issue: November - 2022
Highlands Performing Arts Center's new Artistic Director is spotlighting the children of the community. Be sure to attend the PAC Youth Theater's production of Fame Jr. starring Highlands School middle-schoolers on Thursday, November 3.
---
Richer days are here for Highlands school children.  Thanks to 100 percent funding from Cullasaja Women's Outreach, Highlands Performing Arts Center has recently launched the PAC Youth Theater Program in collaboration with the Highlands School. 
The PAC Youth Program promises to expand the horizons of the school, while providing a unique and tremendous opportunity for students to explore and learn theater.  The course is under the tutelage of PAC's new Artistic Director, Joi Chapman, who will bring instruction and experiences to students that encompass all disciplines of theater – acting, directing, analyzing text, light and sound technique, publicity and costumes. It's the goal of the program to integrate theater into the school curriculum and, by extension, into life.
Research shows that children who sing/dance/act/play are four times more likely to be recognized for academic achievement and achieve better standardized test scores. It's the kind of education that encourages their creativity and thinking processes. By giving kids an opportunity to work on characters, memorize lines, and dig deep into plots, themes, and choices, they're also strengthening critical thinking skills. 
The arts can be the best, most therapeutic, life-changing form of personal expression and booster of self-confidence. That theater also a provides a path to enhanced cognitive, motor, and social development is simply one more plus.
The program is designed to encourage students to develop a higher sense of aspiration and a better image of themselves. As PAC Executive Director Mary Adair Trumbly explained, "All of this translates to 'thinking' students who become 'thinking' adults, which is good for our community." 
As leader of the program, Chapman brings a unique skill set and extensive background to her task. A woman of many talents, Chapman sings, acts, choreographs, and plays clarinet, saxophone and piano.  In her earlier years in her native Ohio, she choreographed and directed the color guards of several high school marching bands. 
Later as a teacher in the Sarasota public school system, Chapman instructed musical theater and choir to middle and elementary school children. 
Teaching is clearly a passion. "The best part of my job is making music with children, and watching them meet and exceed their goals," Chapman said. She also performed with several area theater companies, and, with two colleagues, started a theater company – Rise Above Performing Arts.  
Fast forward to 2020. Chapman's husband landed a job working as a guidance counsellor for the Job Corps in Cherokee. This allowed the couple the opportunity to move closer to family living east of Asheville.  About that time, PAC Executive Director Mary Adair Trumbly contacted Chapman to inquire about forming a partnership with the Highlands School.  
Their connection must have been immediate because as Chapman told me; "I am thrilled to have this opportunity to work in Highlands. Having visited before, I knew I would love spending time here."
For more information, visit HighlandsPerformingArts.com.
---
---