Highlands Music Scene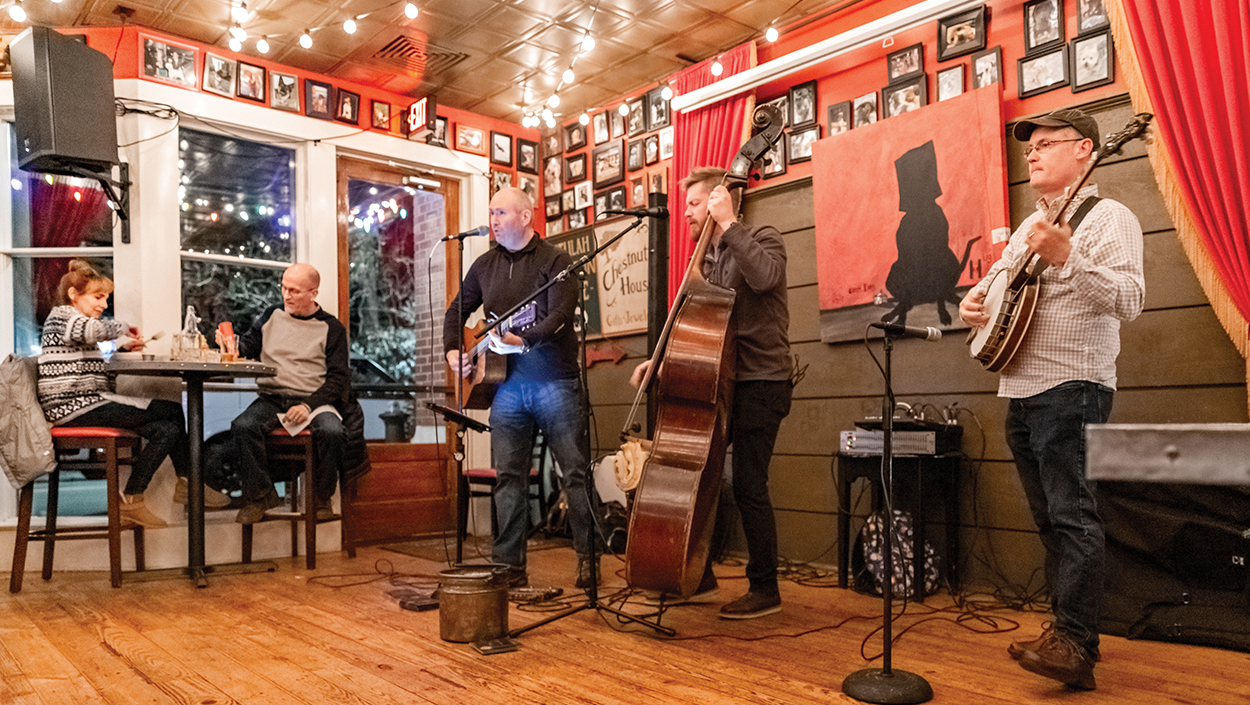 Written By: Marlene Osteen | Issue: March 2023 | Photograph By: Susan Renfro
Highlands heats up cool spring evenings with cool jazz and sharp beats.
---
After a chilly January and February that forced me indoors, I look forward to warmer days and venturing back into the world, trying to reestablish old routines. 
As I do I gravitate towards music and the renewal that comes from being in the presence of live performers. And, just in time, the Highlands' music scene roars back to life.
Hummingbird Lounge
Settle into the warm vibe and comforting surroundings of Hummingbird Lounge as music fills the room, light bites are served, and a roaring wood fireplace is center stage.
The rich, velvety sound of Cy Timmons tinkers with his blend of jazz, love songs, old standards, and contemporary pop in a jazzy bossa-nova style with acoustic guitar. Timmons gets to show off his gorgeous songs in an intimate session, featuring his smooth renditions on Fridays and Saturdays from 8:00 to 10:00 P.M.
Jazz Tenor Saxophonist Tyler Kittle brings to the stage the talent that secured him gigs alongside some of the world's best jazz musicians – including Erykah Badu and American singer-songwriter Freddie Bryant. Just wait until Kittle claims the spotlight, unleashing his signature style – all fire and energy. Saturdays from 5:30-7:30 PM.
The music of Neil Young, Stephen Stills, Bob Dylan, and Paul Simon are the inspirations for local musician Zorki. But it's his standout ability to make one acoustic guitar sound like a band that keeps his fans coming back. On stage most Fridays from 5:30 to 7:30 PM.
Ugly Dog Pub
Entertaining and spirited, Ugly Dogs – the accomplished bluegrass trio of Charles Wood, Darren Nicholson and Colby Nichols – is the nucleus of the music scene and the late-night soul of Highlands. Outstanding pub fare and excellent cocktails combine to make it a town favorite.
Charles Wood is a two-time National Banjo Champion, known for his appearances with Steve Martin and Earl Scruggs on The Late Show with David Letterman. 
He's joined by Darren Nicholson, the Grammy-nominated, 13-time International Bluegrass Music Association Award Winner, and Grand Ole Orpy performer since 2004. 
Rounding out the trio is Colby Laney on acoustic guitar, who's earned a national following thanks to multiple performances at The Grand Ole Opry. Along the way he's earned two International Bluegrass Music Association Awards and composed a Number One Bluegrass Song, Rich Man's Daughter. 
You'll find these artists collaborating and crafting a downhome sound every Wednesday night from 6:30-9:30 P.M. 
---
---