Happy Paint and Liquid Joy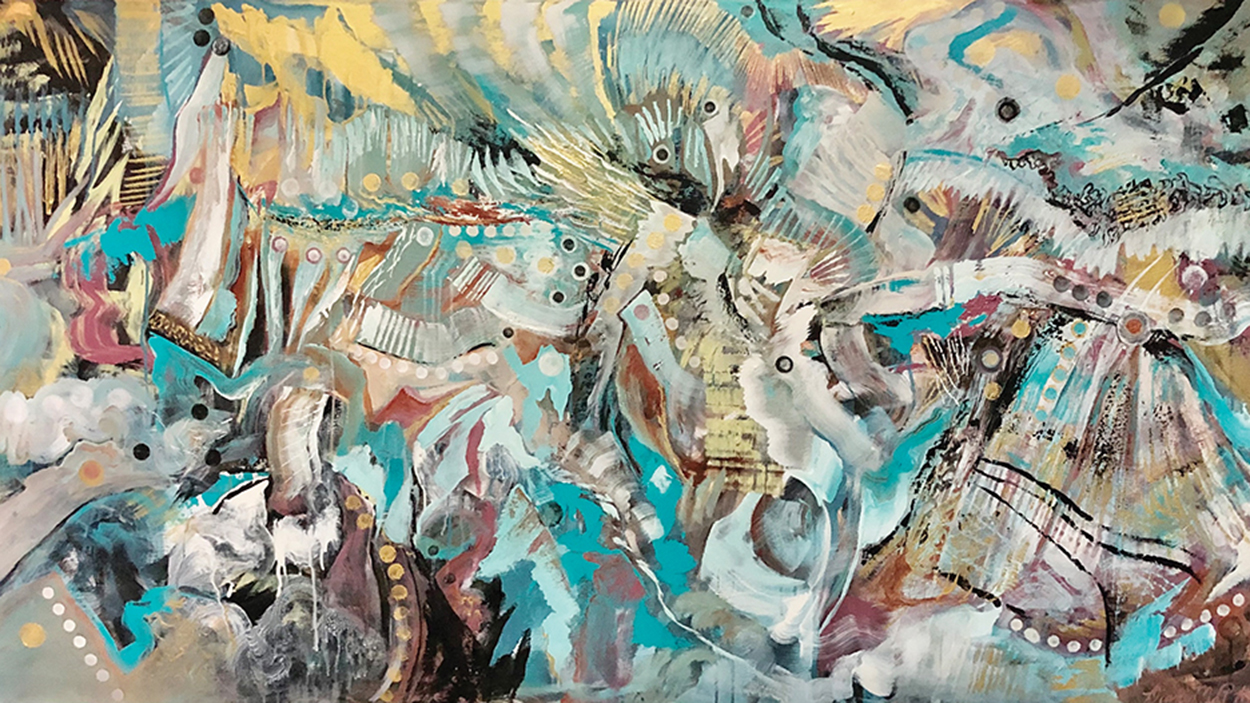 Written By: Donna Rhodes | Issue: November - 2022
The complex elements woven into artist Diane McPhail's March 2008 cover are testament to the passion at the heart of all her endeavors.
---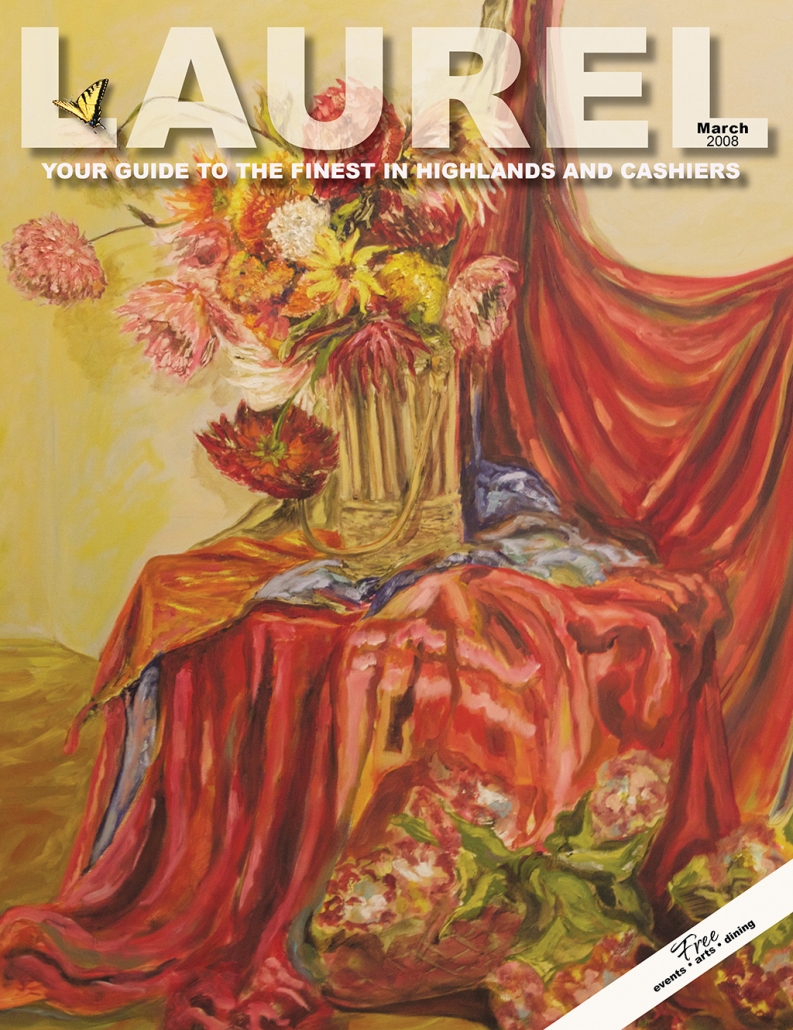 The Laurel's March 2008 cover, here revisited and critiqued, invites you to dive into the warmth and energy Diane McPhail releases into the world through her art, writing, speaking, and humanitarianism.
Diane's warm colors tease us with the promise of Spring and Summer. The painting is one of those divine iconic pieces that lends itself to a variety of occasions: the romantic, heart-red of Valentines, a firework of summer dahlias, the Fall's leaf palette, and the nostalgic reds of Christmas.
"I painted this in the Fall, the year before it was the Laurel cover," says Diane. "I survived a bilateral pulmonary emboli. It was a terrifying, life-threatening situation. After hospitalization and the beginning of recovery, I went back to my studio with my O2 tank, and I painted those fall blooms out of pure joy for being alive." 
So, if you felt a warm rush when you viewed this artwork, that's because it's slathered in happy paint and liquid joy.
Knowing that, if you had only one word to describe this painting, what would it be?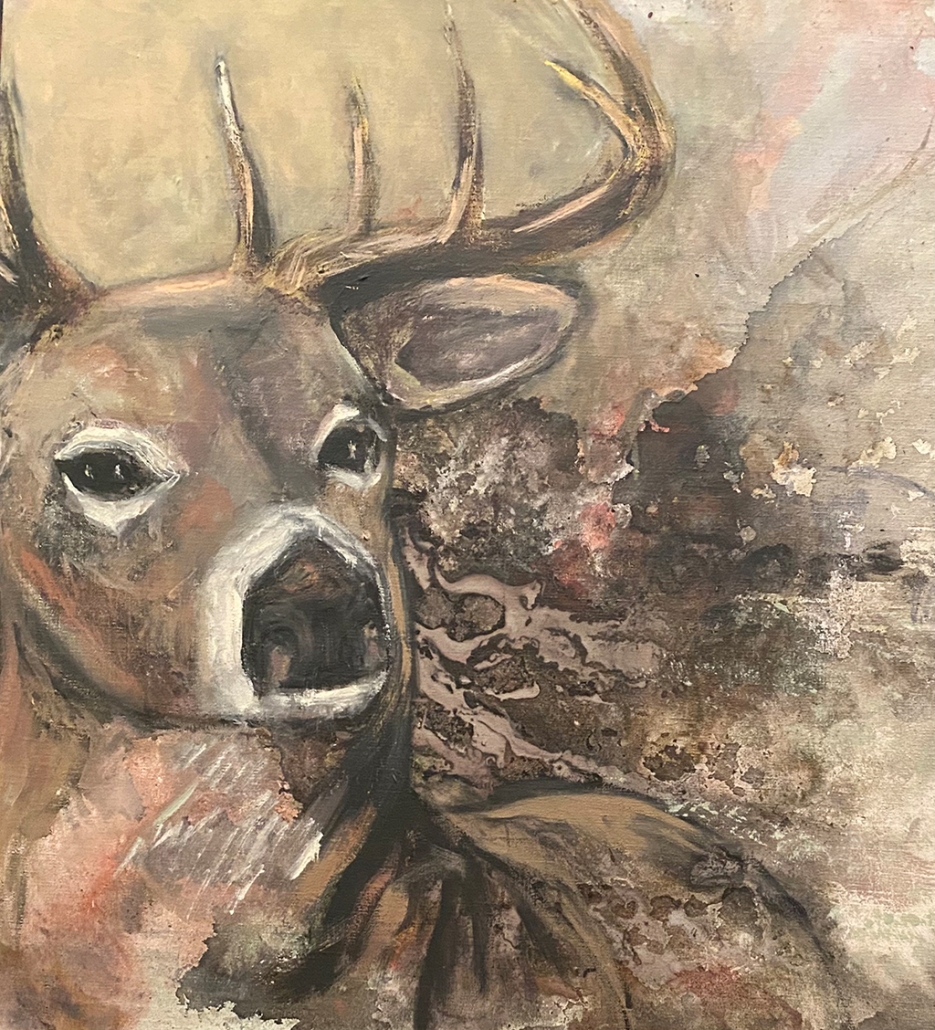 While thinking on that, let's explore more elements. On first viewing, where did your eye settle? The flower arrangement? The vase? The leaning red flower? It's rare to see the underside of a flower in a painting. Do you think it was intentional? What term best describes the leaning flowers: Spent? Resting? Wilting? A hint of death and transfiguration? If you chose the last, the artist would concur. Living, and its companion, Dying, are interwoven. 
Diane, in case you didn't know, has a Doctorate in Ministry which explains why she is so astute in things spiritual and philosophical. She scatters her own brand of sacred in the world. The set up for this still life was created by her students on a retreat. The dominant fabric is an Indian Sari that Diane got on one of her many visits to India while she prepared her doctoral thesis.
That red sari segues us back into color. While the dominant pigment is red, the other two primaries, yellow and blue, complete a primary palette. Add to that a splash of green. In fact, there's olive green everywhere. You just can't see it. It's the underpainting. Complementary colors work when painted side-by-side or one over another as long as the underlying color is dry. The undertone of green harmonizes with the red and pulls the painting together. Look at the painting again and see if that warm olive catches your eye more than before.
Did you note the interesting linework? Is that a product of fabric folds, a play of light and shadow, or something else? With your finger, trace the linework from the bottom of the painting to its top. Was it largely a series of diagonal tracks? Do you find the diagonal and organic lines more interesting than horizontal and vertical? Why?
Diane is a walking metaphor of positive thinking. 
Here, in her words, is a moving explanation of her work: "As a painter, I never plan ahead. I just launch. I start laying out shapes and forms, usually in a deep olive green (that famous olive green we discussed). I block in shadows with a big, wide, long-handled brush. I work from the shadows, moving into the light." 
Working from the shadows, moving into the light. Think of how many ways those words shade, lighten, and color every moment of the day – like painting out from negative thoughts, while brightening the positive ones.
Diane delights in sharing stories and insights. To see more of her work, visit dianemcphailart.com.   For her novels, visit dianemcphailauthor.com, The Book Nook or Shakespeare & Company. Find her small work at The Bascom Gift Shop. For a studio appointment, contact [email protected].
---
---