A Jet-Fueled Valentine: Review of Mountain Theatre Company's Rock of Ages
Written By: Luke Osteen | Issue: Whats News
Mountain Theatre Company's Rock of Ages is a jet-fueled (with a splash of Riunite) valentine to the 80s Power Ballad Era, running through August 19. For tickets or more information, visit mountaintheatre.com
---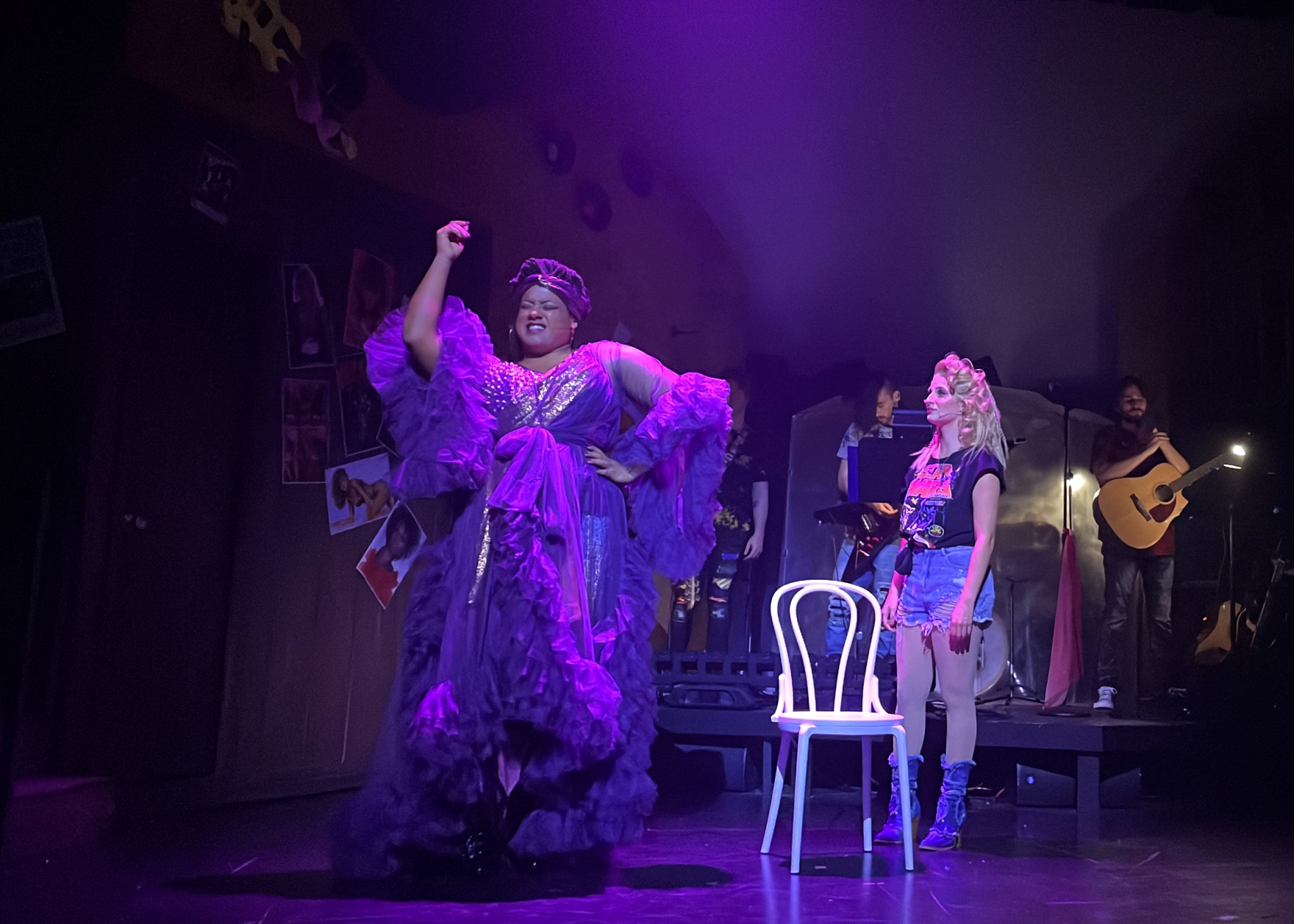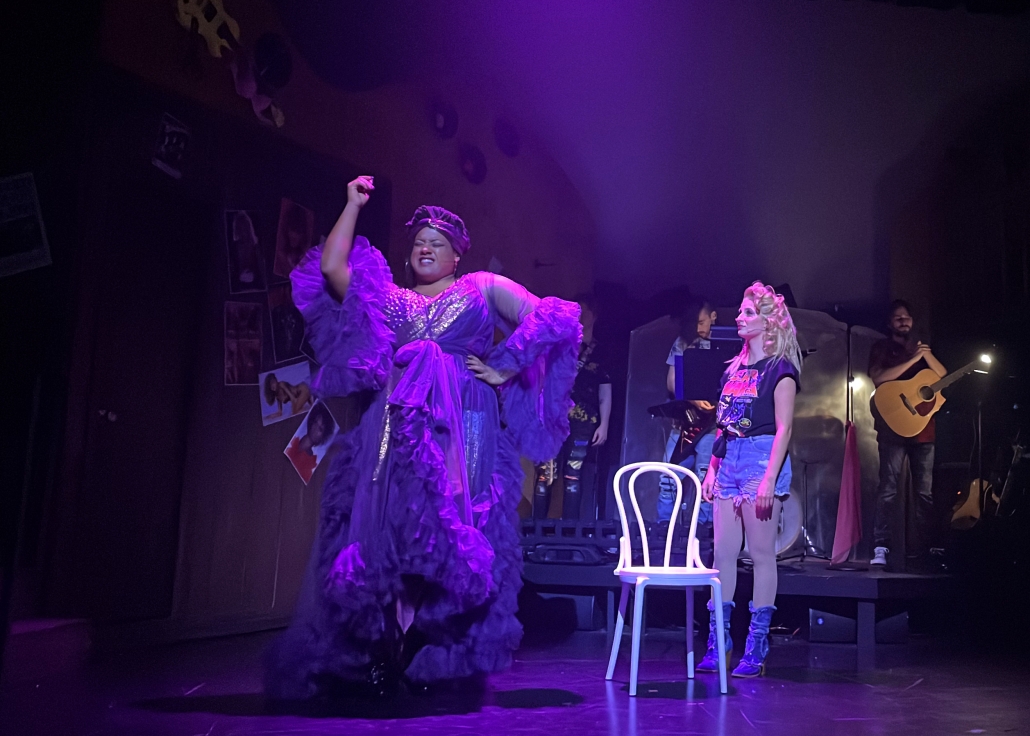 Tell me if you've heard this one before – Earnest kids pin their dreams on a scheme to save their beloved theater/dance hall/studio/nightclub from developers and cultural Visigoths.
Of course, you've heard it before! 
This durable formula has been a reliable framework for stage plays and movie musicals since their inception 100 years ago. Witness the struggles of Dick Powell and Ruby Keeler in 42nd Street; Judy Garland and Mickey Rooney hoofing it through the entire Andy Hardy portfolio; Gene Kelly and Debbie Reynolds (and the magnificent Donald O'Connell) fumbling their way into the Talkies in Singin' in the Rain; all the way up through Nicole Kidman and Ewan McGregor putting their hearts and life's breath into a Bollywood-infused musical extravaganza to salvage the Moulin Rouge.
It's evergreen because it's an irresistible mixture of passion and youthful exuberance and showstopping music. 
Which brings us to Mountain Theatre Company's current production of Rock of Ages, a raucous valentine to the sweet excesses of the 80s club scene.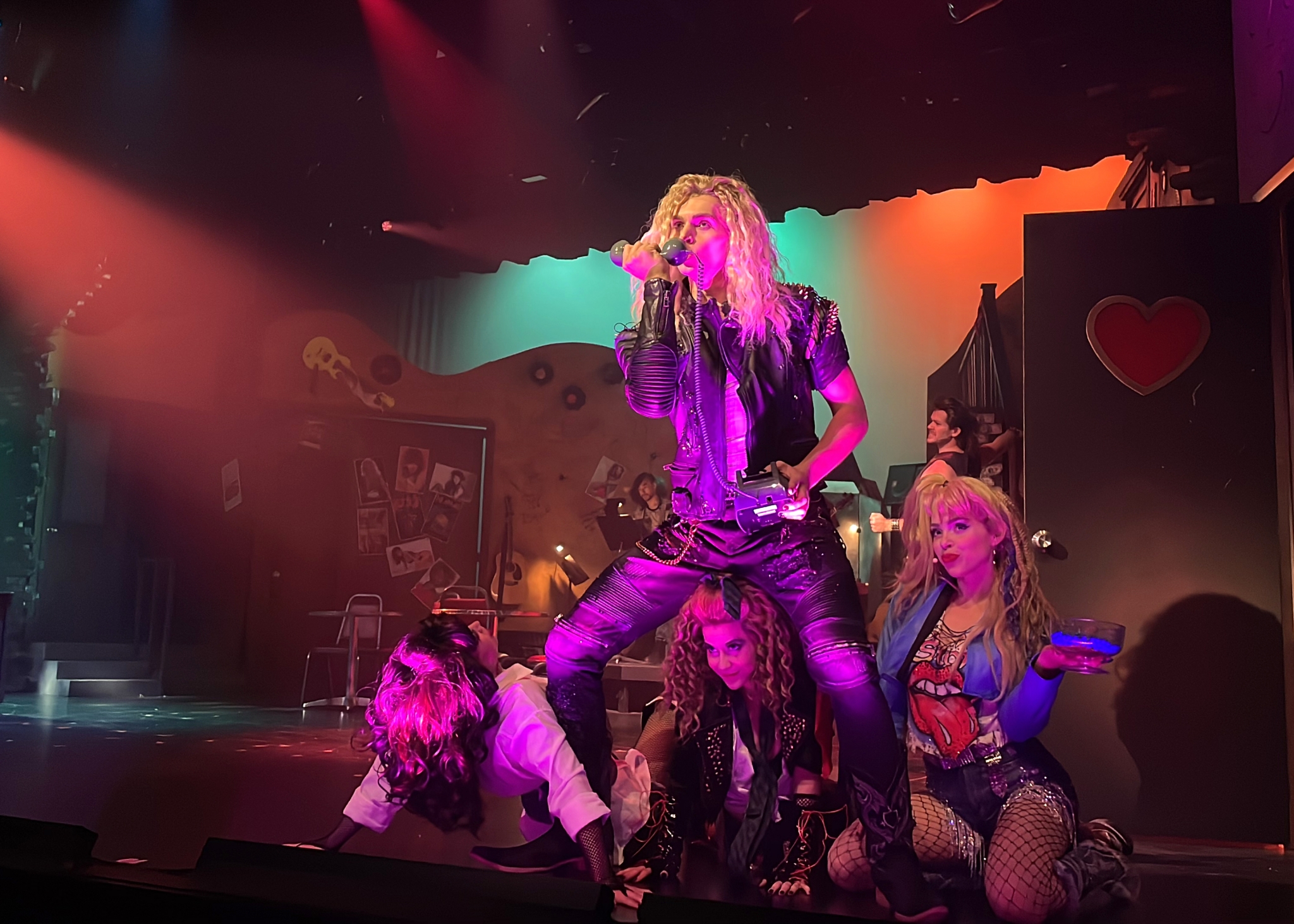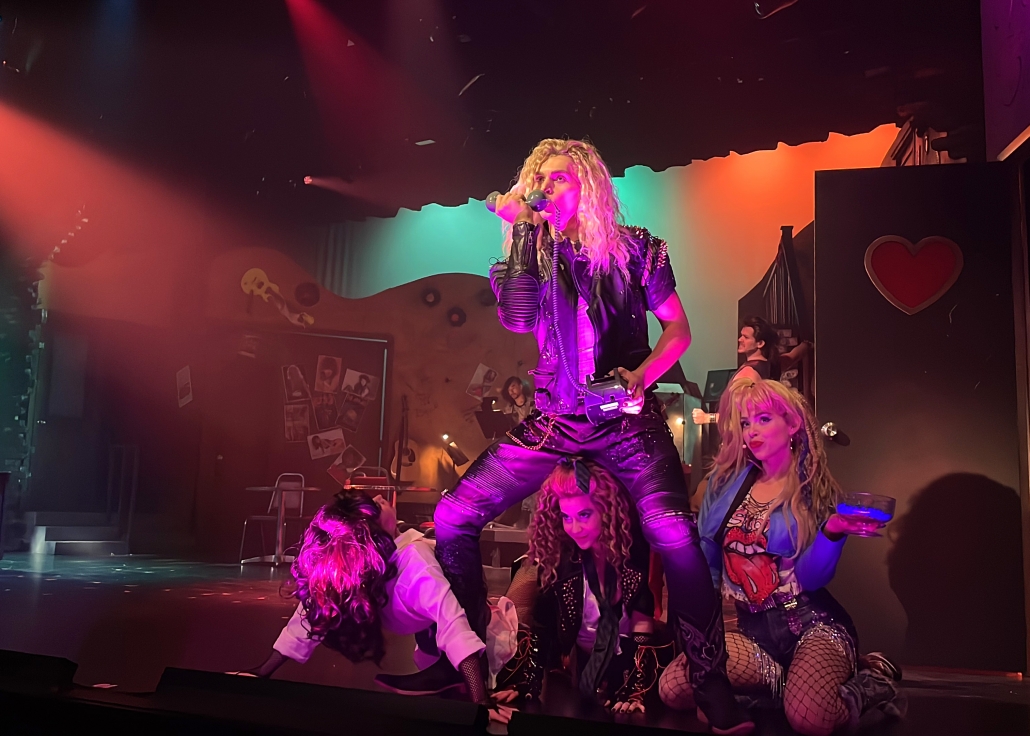 It only takes a few tweaks – swap out Keeler's marcelled locks for the Big Hair look for both sexes; banish Kelly and Reynolds' polished 1920s Hollywood elegance for Lycra skirts and tight acid-washed denim and bomber jackets; and broom the lyrical legerdemain of 42nd Street offstage to make way for spike-to-the-cortex power ballads like "Cum On Feel the Noise" and "We're Not Gonna Take It." 
That's all it takes for playwright Chris D'Arienzo to breathe new life into this time-tested paper-thin plot.
This is a tale wherein the hard-rocking underdogs of Hollywood's Sunset Strip go head-to-head with a German developer out to raze the indie dives where music flourishes, and instead build a mall. 
The action mostly unfolds in The Bourbon Room, a dank space built along the contours of the legendary Viper Room – the kind of place where Mick and the lads (or, in this case, rock legend Stacee Jaxx) might show up for an evening's guerilla performance and a garage band just this side of grunge may take the stage the next night.
Our narrator is Lonny (Hunter Emmett Burke) who works at The Bourbon alongside owner Dennis Dupree (Matthew McGee). The former is a Puck lifted from A Midsummer Night's Dream and channeling, just a bit, Mountain Theatre Company's Executive Artistic Director Scott Daniel with his deadpan jokes and saucy asides. The latter is a tie-dye/fringe loving, acid-washed sage who's been battered by too many nights stretching into dawn.
The requisite villain in this is Hertz (Robert Tully), the developer determined to raze The Bourbon. His relentless drive serves as a backdrop for a series of romantic entanglements and revelations.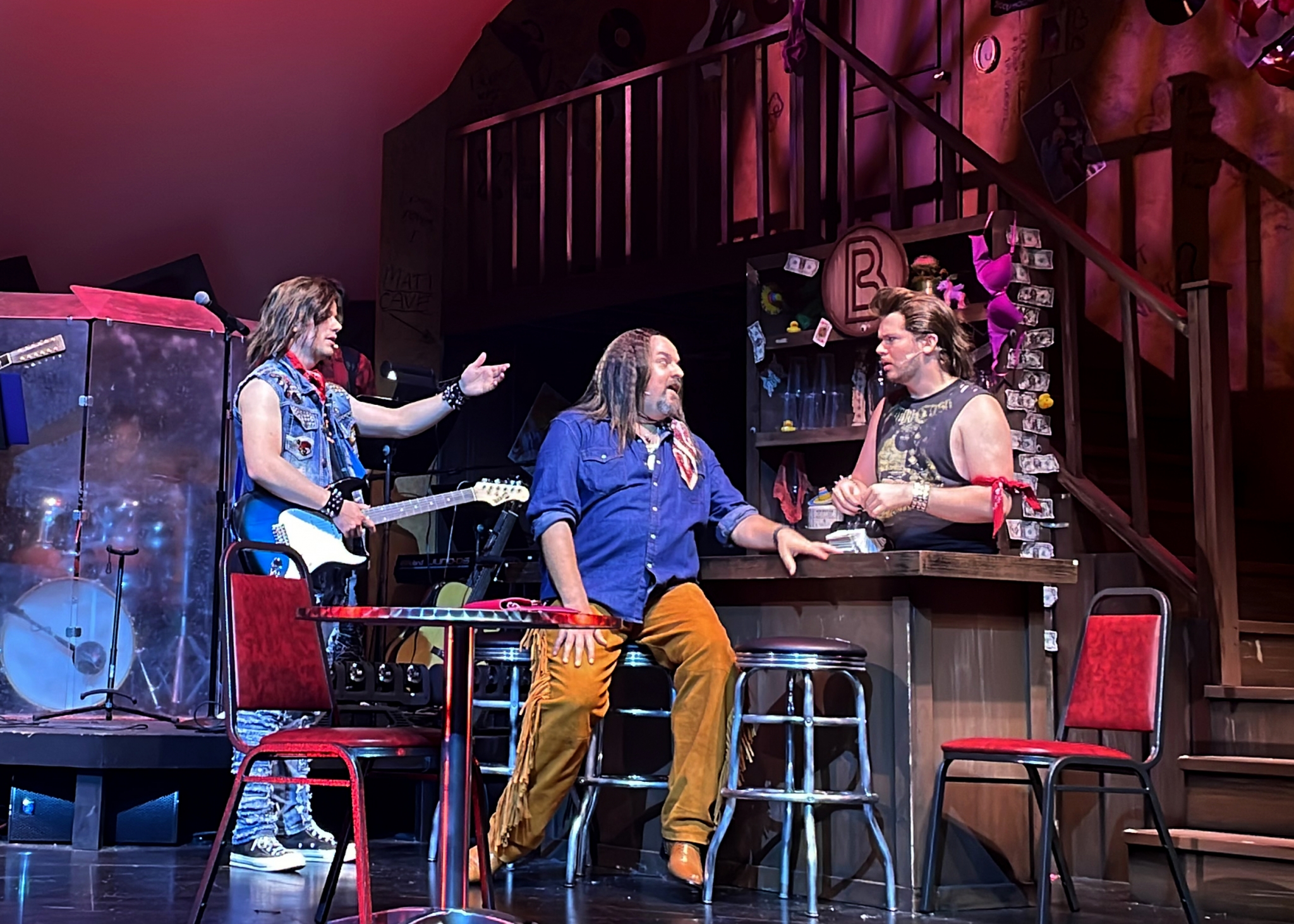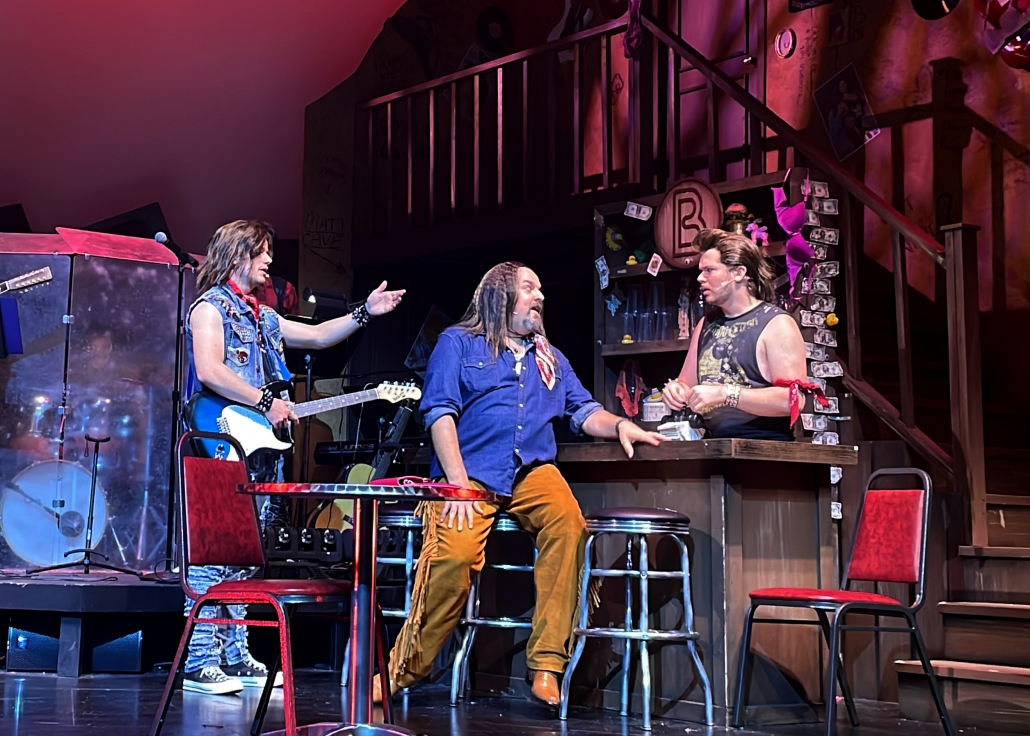 The central one involves Drew (Scott Silagy) and newcomer Sherrie (Morgan Milone). He spends his time at The Bourbon Room plunging toilets and mopping up puke, but dreams of being a singer/songwriter/rockstar. She's determined to become a famous actress. Staggering into the middle of this awkward romantic entanglement is rock god Stacee Jaxx (Russell Muzyczka), who's magnificent in his coked-out stupor.
And outside the club, there's impassioned activist Regina (Erin Leigh Knowles), who leads the charge to stop the mall, and manages to navigate a marvelous hit-or-miss relationship with Hertz's timid son Franz (Alex Pletikapich). This couple's enduring dorkiness is enchanting in its sincerity.
When Jaxx severs the budding romance between Drew and Sherrie, she's taken in by Justice (J'Quay Gibbs), a strip club impresaria and the indefatigable maternal presence to her dancers. Gibbs' performance is electrifying, and their vocal range and bravura power are unmatched. 
Of course, animating this entire enterprise are a jukebox's worth of 1980s hits by hair metal groups like Twisted Sister, Whitesnake and Pat Benatar, Foreigner and Journey, whose "Don't Stop Believin'" has been running just beneath the cultural landscape for 40 years.
This catalog allows the entire cast to show their vocal chops and they don't hold back. 
Silgary's Drew slams through "I Wanna Rock," and his "Waiting for a Girl Like You" is a masterpiece of passion and surprising tenderness.  
Milone's "I Want to Know What Love Is" staggers with its energy and "Harden My Heart"/"Shadows of the Night" with Gibbs' Justice and the ensemble is a true showstopper. 
Then there's "Can't Fight This Feeling" by Burke and Magee, delivered with power harmonies and goofy emotion. These guys deserve their own show.
And I can't leave out Brooke Searcy as Waitress #1 (referred to throughout the show as Waitress #1) – she brings a dynamic presence even when she's relegated to the background, and she shines on "More Than Words"/"To Be With You"/"Heaven4."
Running throughout the show is the choreography of Knowles, and it's as though she lifted the entire rotation of MTV circa 1985 – this is storytelling without words and without compromise. 
And I'd be remiss if I didn't call out the big rock band that fuels this big rock musical – guitarist Andrew Dodge, guitarist Jeffery Dunn, bassist Evan Rogers, Matthew Stern on keys; and, of course, we're talking classic power rock here, drummer Matthew Pantanella. Take a bow, gentlemen! Also, in keeping with the best rock traditions, be sure to trash the accommodations that Mountain Theatre Company has provided and see if you can be listed in the Police Report at least once while you're with us. 
And if there was justice in the take-no-prisoners pecking order of professional theater, Rock of Ages' wardrobe would be listed as a cast member. Costume Designer Beck Jones has delivered impeccable '80s designs, which range from powersuits to ab-baring bell-bottoms and vests bedazzled with stones and sequins.
This is good stuff, regardless of which decade you earned your rock creds. Rock on, Garth! Party on, Wayne!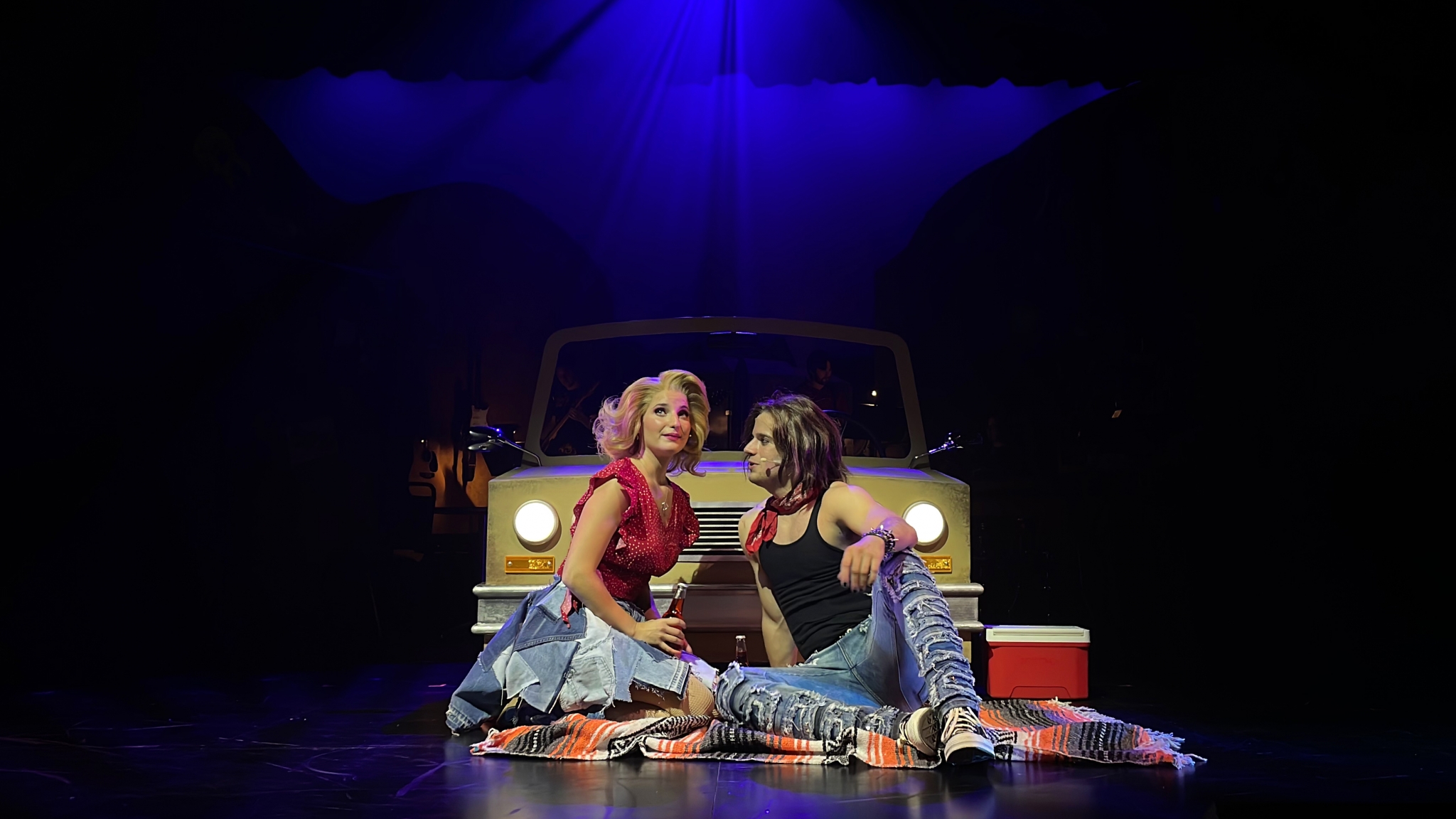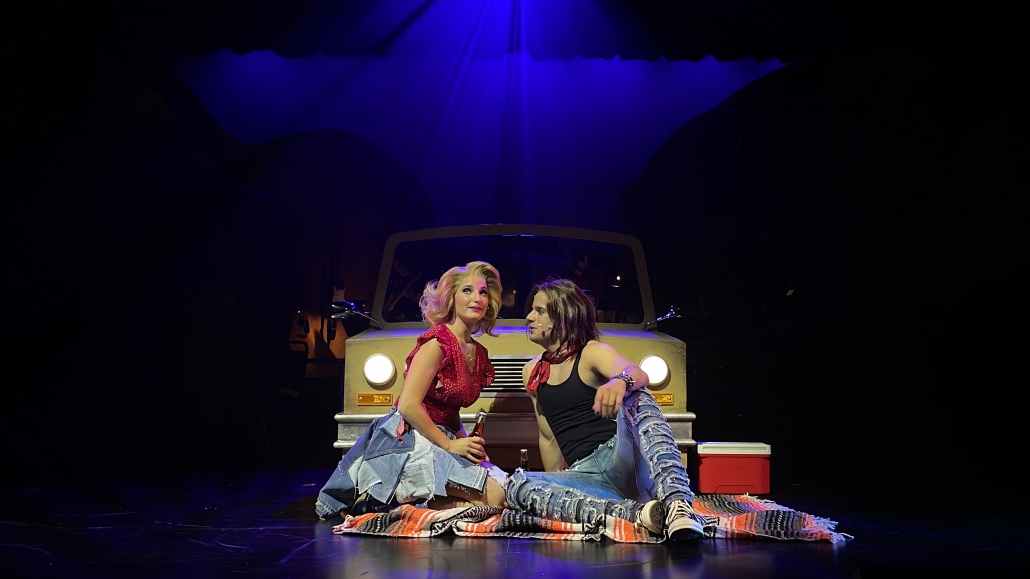 ---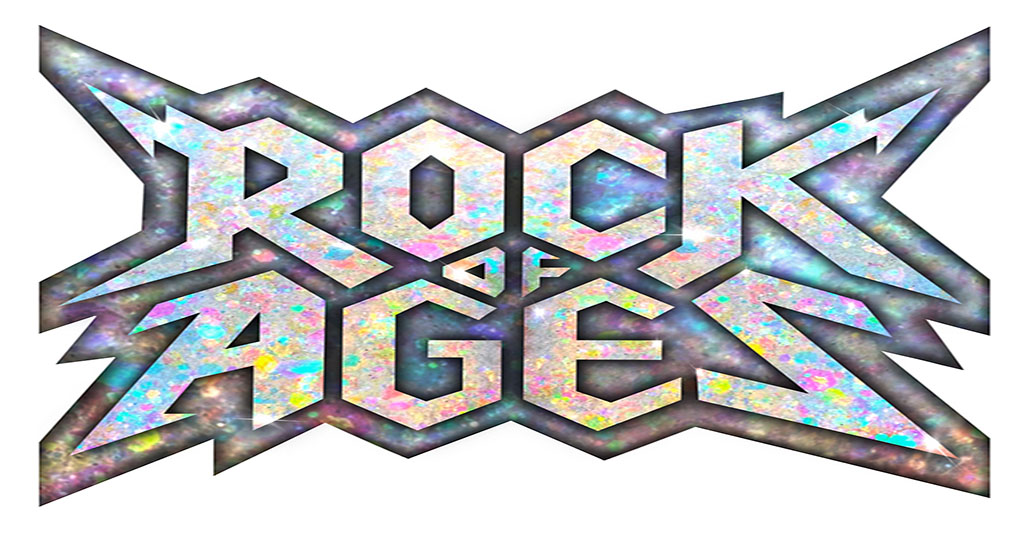 Mountain Theatre Company presents Rock of Ages at Highlands PAC
Part of the Mountain Theatre Company's 2023 Mainstage Season! This Tony Award-nominated Broadway musical tells the story of a small-town girl, a city boy, and a rock 'n' roll romance...
---