Walking in Muir's Shoes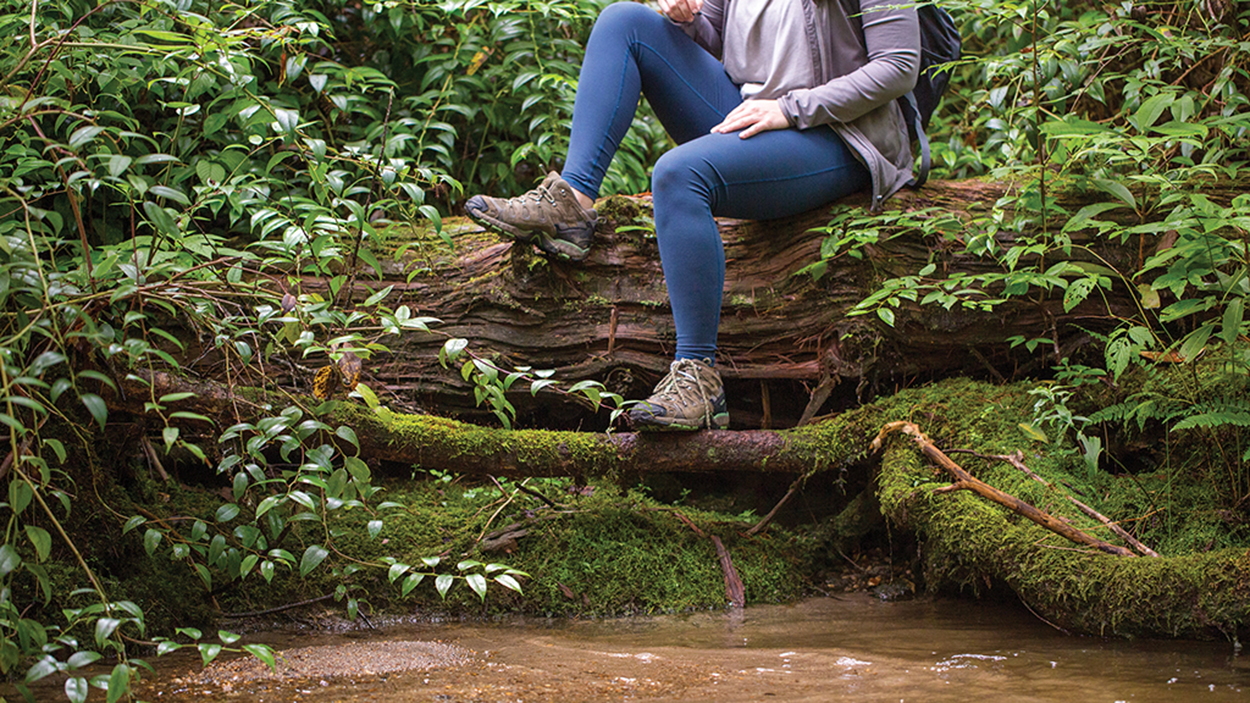 Written By: Luke Osteen | Issue: 2021/09 – September | Photograph By: Susan Renfro
Before you hit the trail, make sure that your feet are happy – the right footwear choices can make all of the difference for your outdoor adventures.
---
The Mountains are calling, and I must go."
If you live here in Western North Carolina, or even if you're just visiting, you can understand the passion that prompted this declaration by John Muir nearly 150 years ago.
But here's the thing, you can bet that the venerable Muir, one of America's first Naturalists, understood the importance of taking care of his feet on his journeys. 
That's the same John Muir who would often go into the woods with only a handful of dried corn and bread in his rucksack and who eschewed bedding, preferring to sleep on pine boughs.
He made sure his feet were taken care of, kitted out in lace-up ox leather boots that were durable and flexible, yet rigid enough to give his ankles a measure of support.
That same devotion to caring for his feet is evident today in our choices for hiking the trails and mountains that ring the Plateau. 
Nathan Smith, the manager of Highland Hiker Shoes, understands all of the components that go into a suitable hiking shoe or boot. 
"There are a lot of things to consider, but one of the biggest factors is making sure that the midsole is adequate to keep your ankle from twisting on a rock or a root," he says. 
"Most of our companies do something called waterproof/breathable, which means that on a microscopic level water can't get through, but they still allow heat and water vapor to escape."
Smith says that if someone is serious about finding the right shoe or boot for their hiking goals, they should come to Highland Hiker Shoes for a personalized shopping experience.
"There are so many things to consider – the size and the contours of the foot, conditions like bunions and corns, the strength of their ankles. You want your fit to be correct in the store before you go out on the trail." 
I asked Smith where he sends people once they've found the correct shoe or boot. 
He answered that the quick answer is Whiteside Mountain or Glen Falls for the authentic mountain trail experience. For those who may want something a little more off the beaten path, he recommends consulting The Highland Hiker Guide to Day Trips (available at the store). It provides a deep look at local hikes and their ease/difficulty. 
Josh LaVere of Bear Mountain Outfitters goes into even greater depth on an aspect of footwear that's often overlooked by hikers – the myriad choices of sock styles.
"It pays to make the right choice when you're buying socks," he says. "Because if you go out with a standard cotton sock, it's not going to wick away the moisture away from your feet, and you'll soon end up with wet feet and wet boots. You want to invest in a sock that has moisture wicking as a feature.
"Also, you want to have a sock that has some padding, because even if you're wearing a good hiking boot or shoe, your feet still put up with a pounding. You want to avoid blisters, which can ruin your hike and make you miserable for the next few days."
According to LaVere, common misconceptions about wool socks – that they're hot in the summer and they're only good in the winter – are in fact just that. 
"They actually keep you cooler in the summer because of their breathability. I wear them hiking all the time, and I'm even wearing them here in the store."
LaVere says that the staff of Bear Mountain Outfitters are able to provide individual attention to those trying to make sock choices since, as Highland Hiker's Smith emphasized, everyone comes in with different hiking plans and, of course, different types of feet.
Highland Hiker Shoes is located at 547 Main Street in Highlands. Highland Hiker at 47 Highway 107 South in Cashiers offers the same footwear selection.  
Bear Mountain Outfitters is located at 357 Main Street in Highlands.
---
---