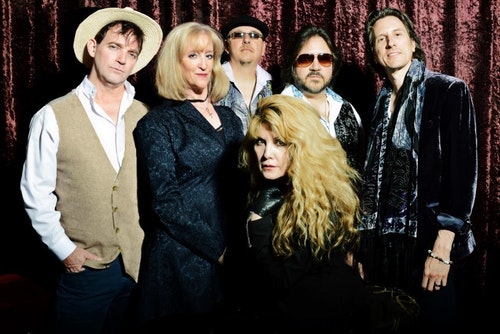 Related Events
Fleetwood Mask at Highlands PAC
"Fleetwood Mask raises the bar for Fleetwood Mac tribute bands"
"I haven't seen so many people dancing in Pacific Grove at a concert, ever!" – Marc Paulhus, Emcee and President, Foundation of Performing Arts Center Pacific Grove.
The East Bay Area-based group's strong suit is its Stevie Nicks character, who not only looks a lot like Stevie, but sounded almost spot-on like the legendary singer. Not to mention her amazing wardrobe, which depicted the gypsy woman persona with panache and style. I was entranced with the beautiful and glittery shawls and scarfs she used to illustrate a particular song's mood and intention. Just gorgeous. Millenary and gloves with dripping chains also served to transport the audience to a believable experience. Emcee Marc Paulhus said after the band's performance — and before the two-song encore — that he hadn't seen so many people dancing in Pacific Grove at a concert, ever!
The band as a whole was really talented, and sounded wonderful in its historical journey through the early Fleetwood Mac material and into its latter-day mega hits. Loved hearing "Oh Well," from the 1969 release "Then Play On"; "Tell Me All The Things You Do," from the 1970 "Kiln House" album; and "Hypnotized" from 1970's "Mystery To Me." These were all albums I bought back in the day and played ad infinitum.
While I surely loved all Fleetwood Mac's music up to a point, I have a soft spot in my heart for the early English blues-based music when Peter Green was in the band. But don't get me wrong, the great Buckingham/Nicks contributions to the Los Angeles era of the band made for some really great listening — and dancing.