Tail Wags and Doggy Kisses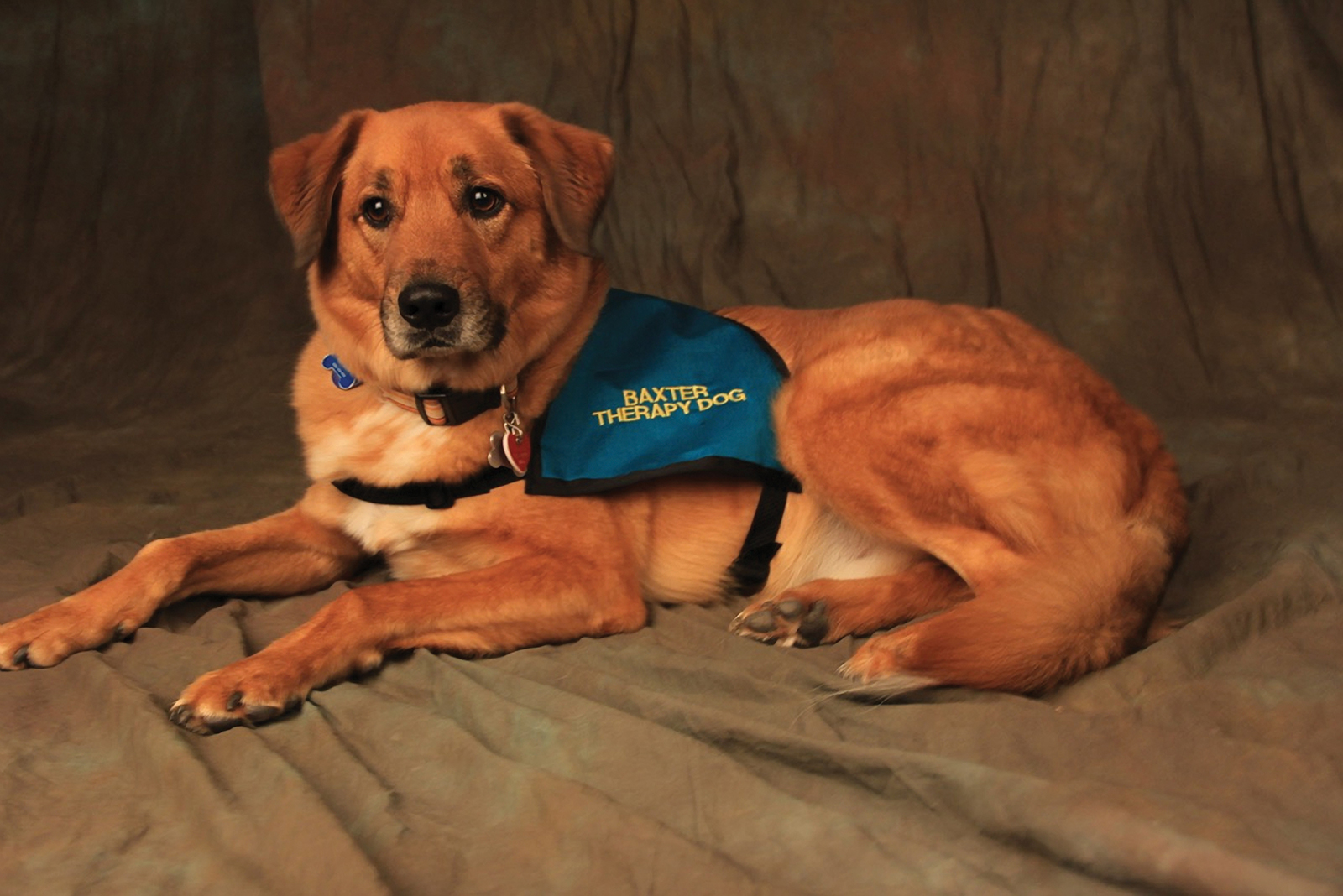 Written By: Jenny King | Issue: 2016/09 - September
Seven years ago, Baxter was rescued from the Yancey County Animal Shelter at the age of seven months. He was withdrawn and afraid of almost everything. However, his life changed as he began to trust humans and realized he loved to be loved. He reached out to meet new faces with caution, and has come a long way. Today his favorite part of life is putting on his Therapy Dog Vest and getting in the car for a new adventure. Baxter visits schools to read with first graders, Mission Hospital, assisted living, and nursing homes, to work with hospice and palliative care patients.
A year or so ago, Four Seasons Compassion for Life was looking to add another therapy dog to their team. Having worked with therapy dogs in this setting before, Baxter and his owner Eleanor Walther decided to apply. After his interview, Baxter was offered the position and he barked with acceptance.
Eleanor says, "I think we both find it rewarding to see the smiles come across the faces as he enters the patient's rooms. Recently, he put his nose up to a napping patient, she awoke quickly and said, 'Oh, my Baxter is here.' His tail wagged and she chatted on with him like old friends would."
Baxter usually visits for 20 to 30 minutes. Sitting by a wheelchair or bed, he brings the patients a different focus to their day. Each visit is unique. Some folks like to pet or brush him, others enjoy giving him treats and talking about the pets they have owned during their life. Others just quietly look at him.
Four Seasons Compassion for Life is focused on giving their patients all the extra care they can offer, anything they need. If a family requests a therapy dog visit, Baxter can give extra socialization, love, tail wags, and doggy kisses. It is a great fit for many people.
Interested in learning more about how your special dog could become a therapy dog? Visit TherapyDogs.com. For more information on Four Seasons Compassion For Life call the Highlands branch office at (828) 526-2552. You may visit them online at FourSeasonsCFL.org or call (866) 466-9734.
---
---