Our Annual Tradition | Christmas Tree Farms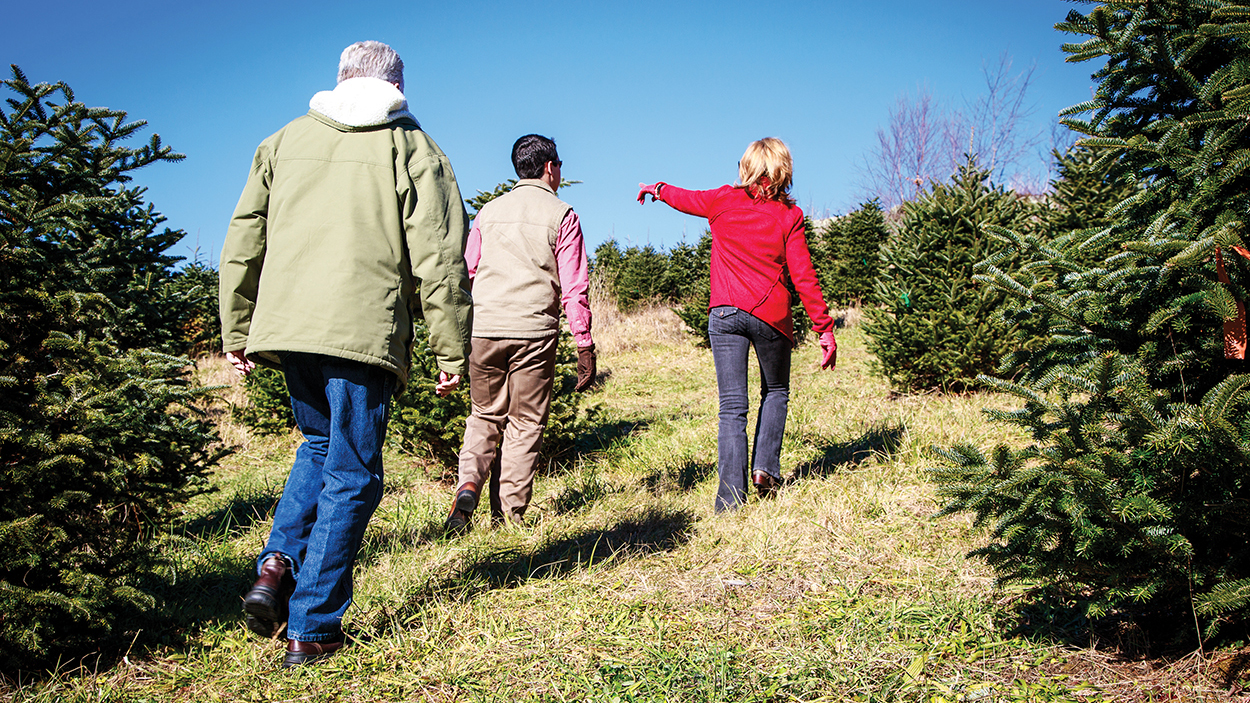 Written By: Marlene Osteen | Issue: 2020/11 - November | Photograph By: Susan Renfro
Local farmers have been working all year to ensure there are entire fields of Christmas trees waiting for new homes.
---
It's November and in Jackson County, Christmas tree farmers are preparing for the annual rush.  
Beginning the weekend before Thanksgiving, tradition will resonate with anticipation as thousands of locals and out-of towners alike throng area farms, to once again rejoice in the crunch of the Fraser Fir needles underfoot, and the scent of the woodsy-filled air and choose the textbook family Christmas tree. It is the adventure that embodies Christmas.
The "king of all Christmas trees," and America's favorite tree, the North Carolina Fraser Fir grows naturally only in the Southern Appalachian Mountains above 3,000 feet.  It's the quintessential product of geography, cool temperatures and environmentally friendly cultivation.  
For the farmer, it's hard work, and patience is essential – it usually takes six years before the trees they plant each spring are tall enough to sell.   
Most people don't know this, but the average age of a six-foot tree, the most preferred size, is 12 years.  
And not all of them are pretty enough for the living room!    
The farmers have been getting ready for the season for some time now, beginning in the summer trimming each tree with precise upward sweeps, using long, sharp knives to achieve the perfect shape and ideal platform to hold heavy ornaments that cascade downward.
As opening day nears, they are readying as well the entertainment that has become part of the ritual expedition to the Christmas Tree Farm.
Tom Sawyer has been selling Christmas trees at his namesake farm in Glenville for more than three decades, and now welcomes the third generation of family visitors.   
Although this year the Elf Village that he started in 2009 will not open,  "a full blown family experience" is still offered and includes weekend meet-and-greets with Santa, horse-drawn carriage rides, and a Post Office for children to mail letters to the North Pole.  
The farm is also well-known for their fresh wreaths beautifully decorated with hand tied bows, and they continue to operate as a wedding and event venue – instituting Covid-19 safe practices to safeguard guests.  Details can be found at tomsawyerchristmastreefarm.com
After 10 years of operating exclusively as wholesalers, Glenville's Bear Valley Farms owners Shelly and Steve Page are looking forward to opening their retail cut and choose operation for a second season.
At the corner of 107 and Bee Tree Road they've moved a red caboose from their property to serve as a Welcome Center and outfitted it with a wood-burning fireplace. 
With covered wagons pulled by a John Deere tractor to take customers to the top of the mountain where they can picnic while picking out their trees, they like to think of themselves as a country store.  For more information at bearvalleyfarm.com
Prospective visitors to area farms are advised to try to plan their visits on weekdays or weekends other than the one following Thanksgiving to avoid crowds and enjoy a more relaxed shopping experience.
---
---