My New Ex Friend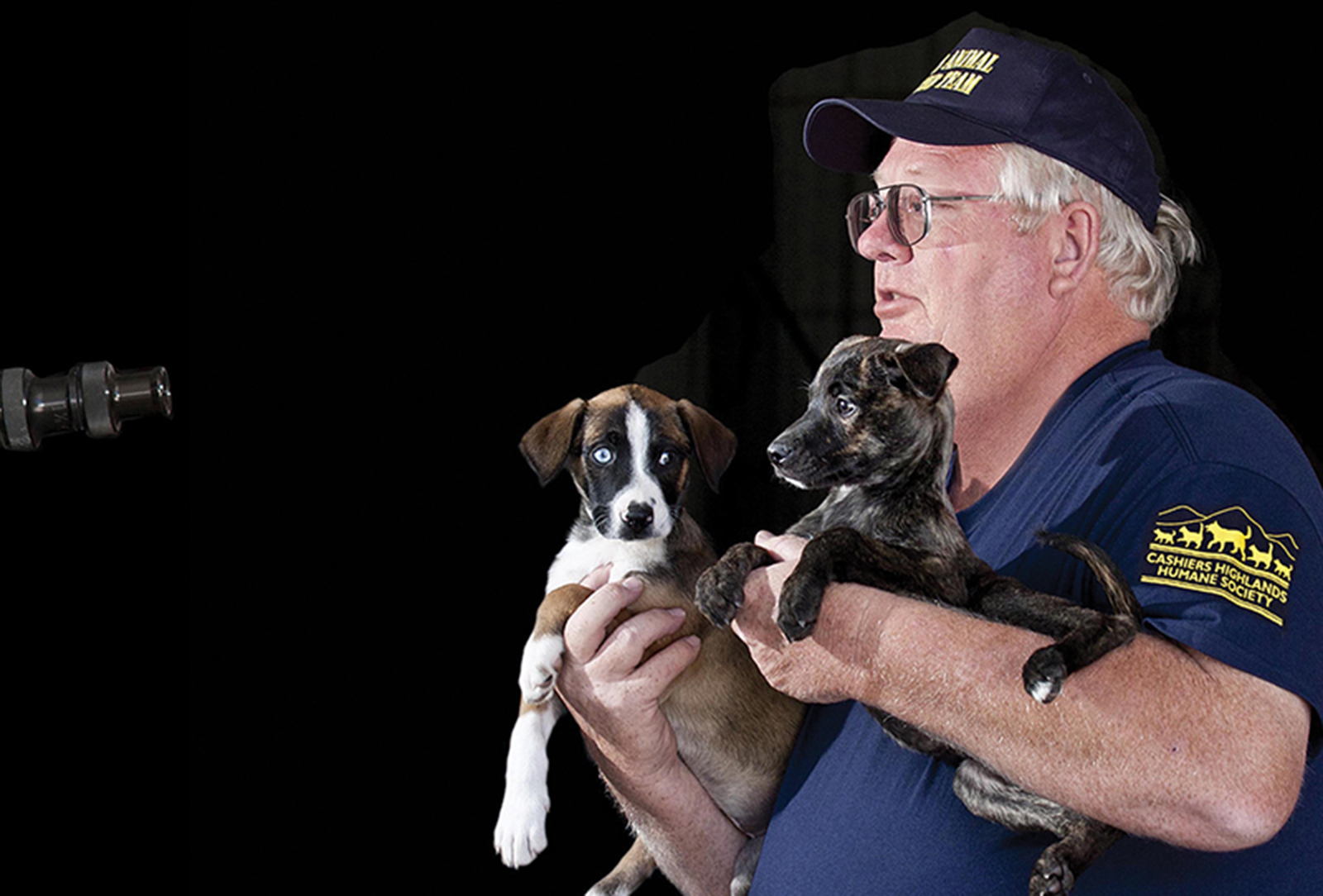 Written By: David Stroud - Cashiers-Highlands Humane Society | Issue: 2019/10 - October
In 2012, when I first met Cashiers-Glenville Volunteer Fire Department Chief Randy Dillard, he blurted out, "Well there's my new ex-friend from the Humane Society."
Without skipping a beat I responded with, "And you must be my new ex-friend from the Fire Department."
While the "ex-friend" label stuck and continues to be a running joke between us to this day, Randy and I are actually great friends with a tremendous amount of admiration and respect for the mission of each other's organization.
CHHS and CGVFD are committed to saving lives – CHHS for the rescue and adoption of abandoned and neglected animals, and CGVFD for their heroism to protect people, property, and yes, our pets also.
So it was only fitting that these two great friends and great organizations joined forces for an afternoon of friendship and family fun for an "Ex-Friends" Stop-N-Adopt in October 2014. It was Randy's idea that we exchange uniforms and as a tribute to the movie "Face Off," pose as each other for the whimsical photograph above.
I can't believe it's been five years. Randy and I were at a function together recently and we decided that five years was far too long a time to not have another fun get-together.
So, mark your calendars: Friday, October 11, from 11:00 A.M. to 2:00 P.M. at the Cashiers-Glenville Volunteer Fire Department at 579 Frank Allen Road for "Ex-Friends II" – a CHHS Stop-N-Adopt and a CGVFD Open House.
But this time…Randy and I are on the "undercard." The main event is going to feature a couple of new younger-generation "faux foes"… CHHS Shelter Manager Kaitlyn Moss and CGVFD Assistant Fire Chief Jonathan Villarreal. All donations from the event will be split equally between CHHS and CGVFD.
Established in 1987, Cashiers-Highlands Humane Society is a 501(c)(3) non-profit animal welfare organization located at 200 Gable Drive in Sapphire, one-and-a-half miles east of the Cashiers Ingles in between Cedar Creek Club and Lonesome Valley on Highway 64.
For more information, visit us online at www.CHhumanesociety.org or call CHHS at (828)743-5752. Tax-deductible donations to support our lifesaving work can be mailed to: CHHS, P.O. Box 638, Cashiers, NC 28717.
---
---