First Responders Cup Golf Tournament at Burlingame Country Club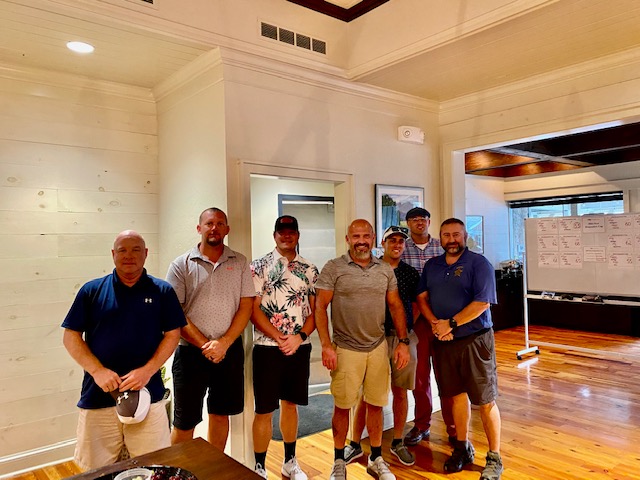 Issue: August - 2022
Under bright, sunny skies in Sapphire the First Responders Cup golf tournament brought in more than $30,000 from donors and sponsors to benefit local police, fire and rescue operations in Jackson and Transylvania Counties.
  "We're delighted that our second year was just as successful as our first year," said tournament director Bruce Snyder. "And, unlike last year, the weather cooperated."
  Proceeds from the August 2 tournament benefit the Cashiers-Glenville Fire Department, the Transylvania County Sheriff's Office, Lake Toxaway Fire and Rescue, and Transylvania County EMS.
  New to the event this year was a raffle to award something special to first responders who have performed above and beyond the call of duty.  Among the prizes given out were an Ingles gift card, a weekend for two at Foggy Bottom Cabins and a golf cart donated by the tournament's Gold Sponsor, Appalachian Golf Cars.
  In addition, Transylvania County Sheriff David Mahoney, retiring later this year, was honored for his 30 years of service. Several first responders were able to join in the festivities and were given an emotional standing ovation when introduced during the award ceremony.
  The recipients of FRC donations plan to use the money in a variety of ways including training, new equipment and computer upgrades.
  The golf course at Burlingame Country Club was immaculate and the greens were challenging but true. Winning the first flight was the team of Clark Hickock, Mary Lou Hickock, Jason Hickock and Whit Jefferson with a score of 19 under par, 53. 
  Winning the second flight with a 58 were Nick Green, Shellie Green, Seth Rosier and Mindy Barnes.
By Russ Small
---
---