Cheese Biscuit Queen at Half-Mile Farm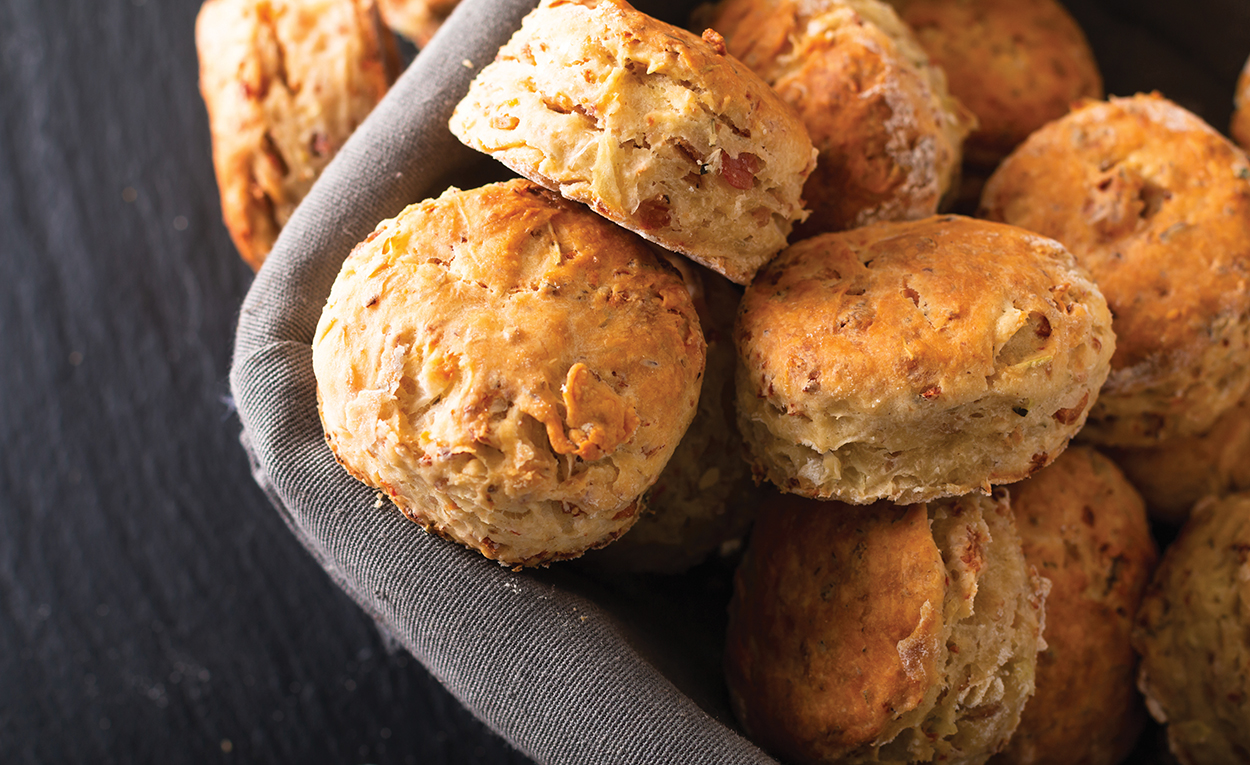 Written By: Marlene Osteen | Issue: 2021/12 – December
Mary Martha Greene's Hosted Weekend at Half-Mile Farm promises to be playful, satisfying in so many ways, and rewarding, but probably not explosive. For reservations, visit HalfMileFarm.com.
---
For Mary Martha Greene, featured guest at Half-Mile Farm's Hosted Weekend on January 21-23, "food is the language of love."  
It was the language spoken among the matriarchy of great cooks that populated her home growing up in South Carolina between Beaufort and Columbia.  
In her new book, The Cheese Biscuit Queen Tells All, Greene reveals the stories surrounding those dishes with instructions on how to recreate them.  And all the while reminding us that the recipes hold memories that are not solely hers but are the legacy of two gifted aunts, her mother, and grandmother.  
A seductive and skilled Southern storyteller, she invites the reader to sit down with her at the kitchen table to share stories and recipes, bolstering the notion that "great food leads to great times and great memories."  
In a decades-long career in politics, Greene says she's "used cooking and baking to win friends and influence people both in my lobbying career and when entertaining business prospects for clients, and many of the stories come from those events." 
As Virginia Willis, chef and James Beard Award-winning cookbook author noted, "You'll come for classic Southern recipes and stay for the tales."
In dishes from the cheese biscuits of the book's title ("in a league all by themselves") to Aunt Mimi's go-to dishes for entertaining, Cheesy Pudding and Shrimp Harpin, Greene's recipes are simultaneously humble, familiar, and unpretentious while being undeniably fantastic. 
Greene told me she's excited to return to Highlands.  
As to her last visit here, well, let's say, one can "Blame it on the Wine." As Greene told me, she had previously enjoyed frequent "mountain excursions" to Highlands with family.  But, for this visit, she and friends had splurged on a particularly spectacular rental – a home that had recently sold for $2,000,000.  The crowd was eagerly looking forward to the meal that Greene promised to turn out in the home's spectacular kitchen, which boasted a professional Viking range.  
That first night, as the group gathered on the deck cooing over the views, wine glasses in hands, Greene turned the gas on the stove, set pots of food to cook on the eyes, and joined her friends outside.  It wasn't long before conversation was interrupted with a large boom and the sight of metal covers bursting from the stovetop.  It seems that Greene had turned on the gas without actually lighting the burners.  Thankfully, there was no significant damage.
Her visit to Half-Mile, which promises to be somewhat less explosive, includes Friday and Saturday social hours with craft beverages and complimentary hors d'oeuvres.  Greene's book will also be available for signing and purchase.  
Hosted events are for Half-Mile Farm guests only.  Visit HalfMileFarm.com to check for room availability.
---
---