Cashiers Valley Leaf Festival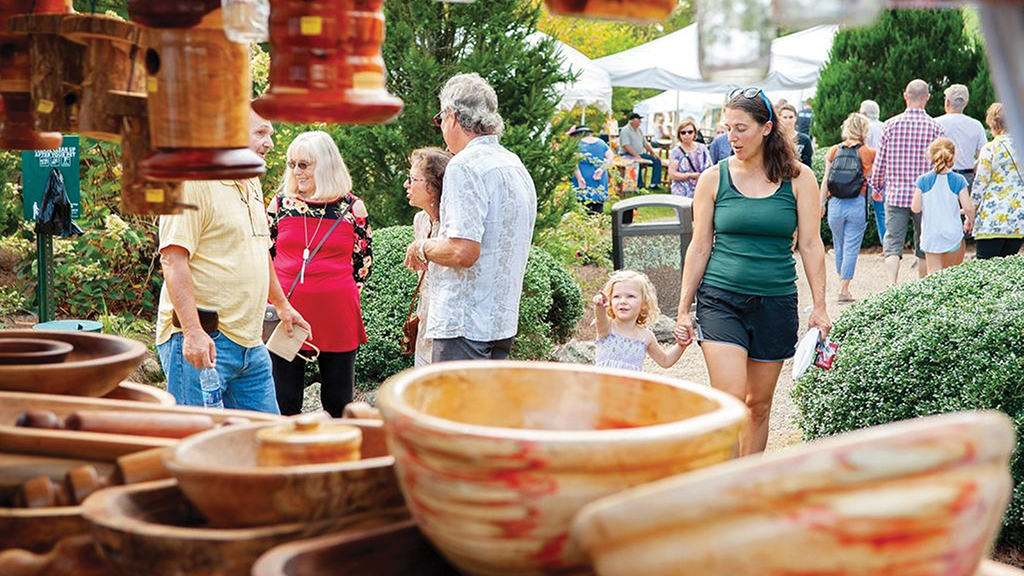 Written By: Mary Jane McCall | Issue: 2021/09 – September
Lose yourself in Cashiers' original homecoming celebration – The Cashiers Valley Leaf Festival, slated for October 8-10 at the Village Green.
---
The annual Cashiers Valley Leaf Festival will be held the weekend of Friday, October 8, through Sunday, October 10, in the heart of Cashiers at the Village Green.  Each year as the weather turns cooler and the changing autumn leaves announce the arrival of fall with a blaze of color, over 100  national and regional artisans and merchants make their way to the Village Green located at the crossroads of Highways 64 and 107 for this annual celebration.
Visitors will find unique handcrafted items for purchase including wood items, furniture, accessories, pottery, jewelry, patio furniture and accessories, garden sculptures, paintings, carvings, scarves, linens, and so much more. Part of the fun is taking the time to visit your favorite artists who love to share stories about their creations.  If you're looking for that unique one-of-a-kind piece for yourself or as a gift, you'll find it here. 
During a typical Leaf Festival visitors will make their way through the myriad of craft booths while enjoying the food and drink available on site.  Parking is free, restrooms are available, and it's the perfect venue for an idyllic fall day of fun for the whole family.
Music is an integral part of this annual celebration showcasing local talent, and performances are scheduled throughout the festival.  You'll be treated to a vast array of local and regional talents playing music for every genre including Americana, jazz, blues, bluegrass, country, rock, and folk. A ticketed concert will be at 6:00 P.M. Friday, October 8, at the Commons with Isaiah Breedlove as the featured performer. Visit VillageGreenCashiersNC.com/concerts for updates on information for this live music opportunity.
The festival starts each day at 10:00 A.M. and ends at 5:00 P.M. on Friday and Saturday, and until 3:00 P.M. on Sunday. For more information visit villagegreencashiersnc.com or visit their Facebook page.
---
---