Twice is Double Nice: Twice Baked Potatoes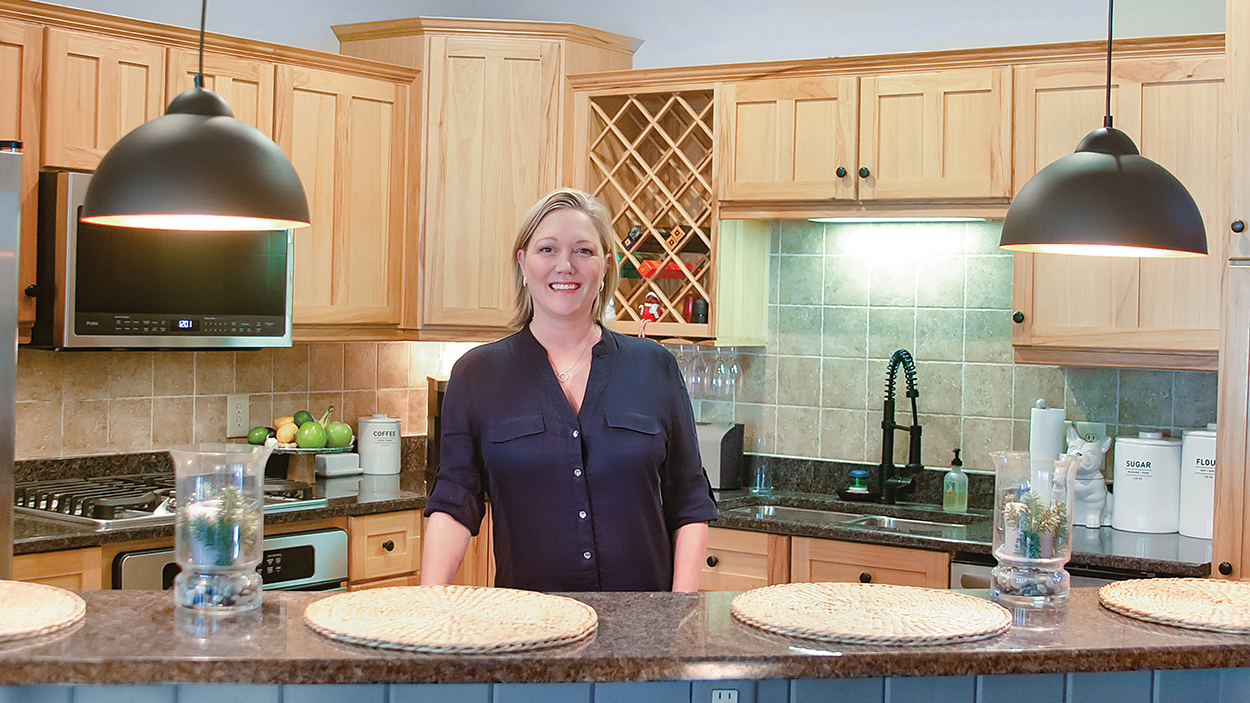 Written By: Marlene Osteen | Issue: 2021/01 – Winter | Photograph By: Sarah Fielding
At a time when we could all use a generous serving of comfort food, Michelle Dauble unveils the comfiest in her Recipe Box – Aunt Betty-approved!
---
At what may seem like the worst possible time to pack up and go – in the midst of a Pandemic – Michelle and Jason Dauble did just that. 
In June, with their children, 13-year-old Skye and 10-year-old Jackson, they left their lifetimes in Atlanta, their longtime jobs in the service industry, and their home, bought a house on the Plateau, enrolled the children in school and started jobs working at the Skyline Lodge for its new owners, the Indigo Road Hospitality group – Jason as General Manager and Michelle as Director of Sales.   
Frequent vacationers to Highlands, it was a long-wanted and long-awaited move.  Michelle says that although "it was nerve-wracking in the middle of Covid, everything fell into place from selling our house, to buying a new one, getting into a new school and both of us starting brand new jobs.
"It was like the Universe and God were telling us to go, that this was the right thing for our family." 
Excited to be part of the team renovating the Lodge, and the Highlands community, Michelle happily agreed to share a favorite recipe with us – her Aunt Betty's Twice Baked Potatoes.   
Comforting, satisfying and pretty much ideal, the memory of these potatoes, brings up wistful reminisces of Aunt Betty and the comfortable, raucous, laughter-filled evenings the family spent at their home in Lilburn, Georgia – feasting on steak and potatoes.   
Readers will want to note that Michelle does as Aunt Betty did, baking an extra potato so that after everyone has snacked on the creamy cheese mashed filling, enough remains to stuff the potatoes.
Aunt Betty's Twice Baked Potatoes (Serves 4)
Michelle advises that should you dream of other flavor combinations, like bacon, or broccoli, just follow the recipe below and stir in any additions after the dairy in Step 3.  Shower the top with more grated cheese if you like, then bake, garnish and dig in.
Ingredients
3 large Russet Potatoes
1-tablespoon Olive Oil
2 tablespoons Kosher Salt
1 teaspoon Lemon Pepper Seasoning
1 teaspoon of either Rosemary, Thyme or Herbs de Provence
4 tablespoons Unsalted Butter, cubed and softened
½ cup Sour Cream
½ cup shredded Cheddar and Monterey Jack Cheese, reserve some for garnish
½ teaspoon Garlic Powder
Black Pepper to taste
1-tablespoon Fresh Chives
Directions
1. Position rack in the top and middle of the oven, and heat oven to 400 degrees. Scrub the potatoes clean and pat them dry. Poke holes all over them with a fork. In a large bowl, toss two of the potatoes (the third will be used for extra "stuffing") with the oil, 1-tablespoon salt, lemon pepper, and herbs. Place the potatoes on a parchment-lined baking sheet and bake for about 1 hour, until the skin is crisp and potatoes offer no resistance when a knife is inserted in their centers. Remove from the oven and let sit until cool enough to handle.
2. Slice all the potatoes in half lengthwise. Use a spoon to scoop out the flesh on all the potatoes, leaving 1/4-inch border of potato on the skins of two of the potatoes, and transfer the flesh to a medium bowl. Return the four potato halves to the baking sheet.
3. Mash the potato flesh with a fork or potato masher. Add the butter, and stir until smooth (try not to overwork). Add the sour cream and cheese and stir to combine. Season generously with garlic powder, salt and pepper. Stir in the chives.
4. Mound each of the 4 potato skins with a quarter of the filling. Shower the top with more grated cheese if you like.  Bake the potatoes until warmed through, about 10 minutes. Serve immediately.
---
---