Sour Cream Pancakes: Chip Wilson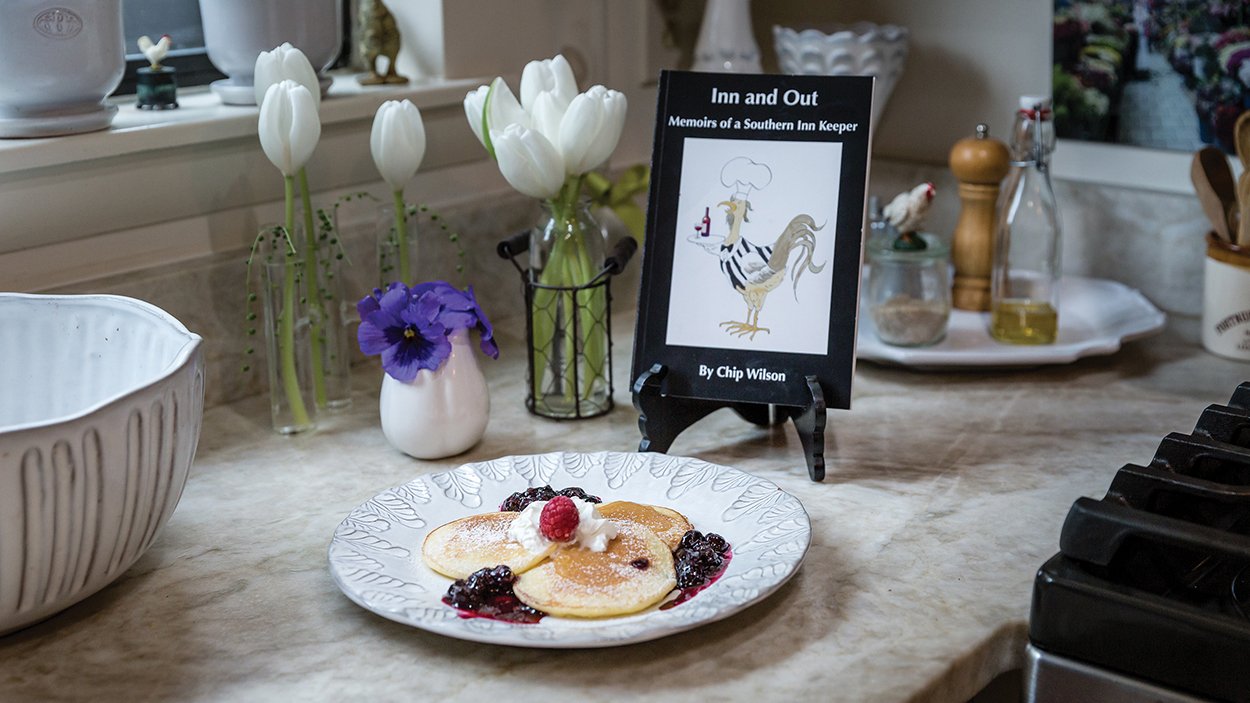 Written By: Marlene Osteen | Issue: 2021/06 – June | Photograph By: Susan Renfro
Chip Wilson's Sour Cream Pancakes are a delicious testament to a life lived with passion and joy.
---
Through any lens, Chip Wilson has led a storied life.  
She grew up in the suburbs of Detroit.  Married at 19, she had two children, divorced 15 years later, and in the 70's landed in Atlanta, proprietor of Truffles Cooking School and store.  
Celebrities – including Julia Child and Jacques Pepin – regularly passed through her doors there.
If anyone was equipped to own one of Atlanta's "hot" and haut restaurants, surely it was Chip. She married again – this time in Switzerland – and she and her Swiss husband opened Atlanta's fine dining stalwart of the era, Hedgerose Heights Inn. 
In 1986 she bought an old farmhouse in Valle Crucis, North Carolina, renovated it and took over as innkeeper.   
Anecdotes of her years at the Inn at The Taylor House now fill the pages of the memoir she published in 2015 – Inn and Out. (Copies can be purchased at Rosewood Market, the Business Spot in Highlands, and Shakespeare & Company).    
It was during those years that she met her third husband  – Jim.   
Now living in Highlands, she spends her time packing the pickles she sells at the Farmers' Market here.  
Here, her recipe for Sour Cream Pancakes, long ago served to one of her inn guests, a British Lord.  So taken was he with the dish he saw to its publication in Britain's very chichi publication, Tatler.
Chip Wilson's Sour Cream Pancakes
Ingredients
½ cup sour cream
½ cup milk
2 eggs, separated
¾ cup flour
2 tablespoons sugar
1-teaspoon baking powder
Pinch of salt
1 stick butter, melted
Directions
1. In a bowl, stir together the egg yolks, sour cream and milk until well blended.  
2. In another bowl, sift together the flour, sugar, baking powder and salt.  Add to egg mixture, along with the melted butter.
3. In the bowl of a stand mixer, beat the egg whites until they hold stiff peaks.  With large spoon, fold whites into batter, stirring gently until there are no yellow or white streaks.  
4. Heat skillet or griddle over medium heat.  Grease lightly and spoon about ¼ cup of batter for each pancake.  Flip pancakes after bubbles rise to surface and bottom brown, after 2 to 4 minutes
Variations:  Spread lemon curd between pancakes and top with fresh warmed berries. Or add sliced strawberries sweetened with simple syrup and a dollop of whipped cream.
---
---