North Georgia Winery Tour | Center for Life Enrichment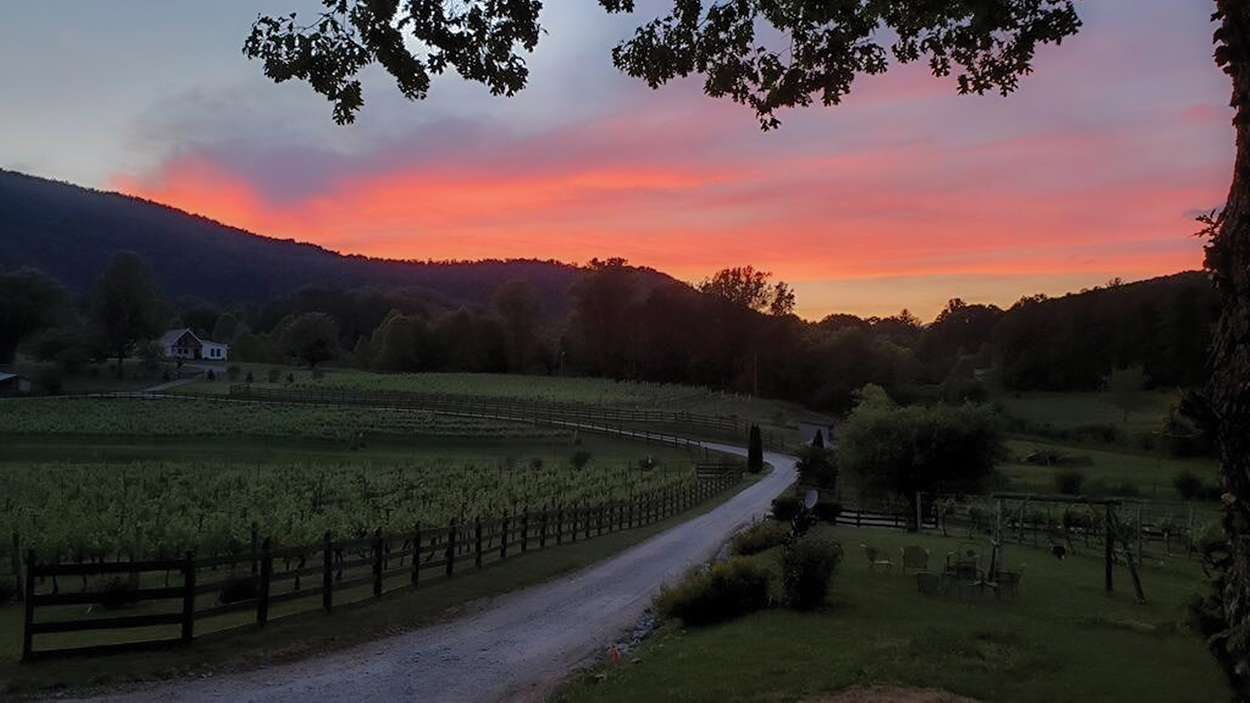 Written By: Marlene Osteen | Issue: 2021/10 – October
Bordeaux, Napa Valley and...Tiger, Georgia? We're serious! The Center for Life Enrichment has a tour of the startling Stonewall Creek Winery, October 12. Visit clehighlands.com for more information.
---
How about trying some wines from the North Georgia mountains, produced from grapes grown on ancient soil in the tiny town of Tiger, Georgia?
It's a region that has been recently getting attention for the quality of its current wine and the exciting promise of what is to come.  A chance to gain a better understanding of why "the Peach State" is emerging as a prominent wine-growing region is offered by the Center for Life Enrichment Stonewall Creek Winery tour and luncheon on October 12. 
Stonewall Creek Vineyards straddle a picturesque valley bordered by Glassy Mountain, Crunkleton Ridge, and the Chattahoochee National Forest.   A visit to the winery offers a tour of its immaculately groomed grape rows ending with traditional rose bushes, a vegetable garden, and a classic old barn set in a pasture next to the gurgling Stonewall Creek.  
In 2004, founders Carla and Carl Fackler purchased an old apple orchard and began planting grapes, starting with Malbec.   Over the next three years, they expanded their plantings to include other European varietals, along with Tannat and Petit Manseng. 
In 2018 friends of the Facklers, Sandi and Mark Diehl, purchased the winery.  Mark and Carl had shared a common medical background as orthopedic surgeons. In 2010, the Diehls learned that the Facklers were planting grapes in northeast Georgia; they began visiting the winery, helping with plantings and harvest. Over the years, Carl taught Mark how to take meticulous care of a vineyard, and when the Facklers decided to retire, the Diehls jumped at the chance to turn their passion into a vocation. The Diehls carry on the tradition started by the Fackler's – to produce fine wines from European grapes that express the unique Rabun County terroir.
Visitors to the retro-style winery will learn the wine-making process and be treated to samples of wines.  Perhaps there will be a taste of the winery's award-winning Cabernet Franc. 
If you fancy a big gulp of juicy fresh fruit – think blackberries and other ripe berries and tobacco – then this is the wine for you.  Unlike most Cabernet Franc, it has smooth tannins and zero pretenses.  Light lunch will follow the tasting.  
Visit clehighlands.com for more information.
---
---