A Gourmet's Extravaganza: Fisher Vineyards Wine Dinner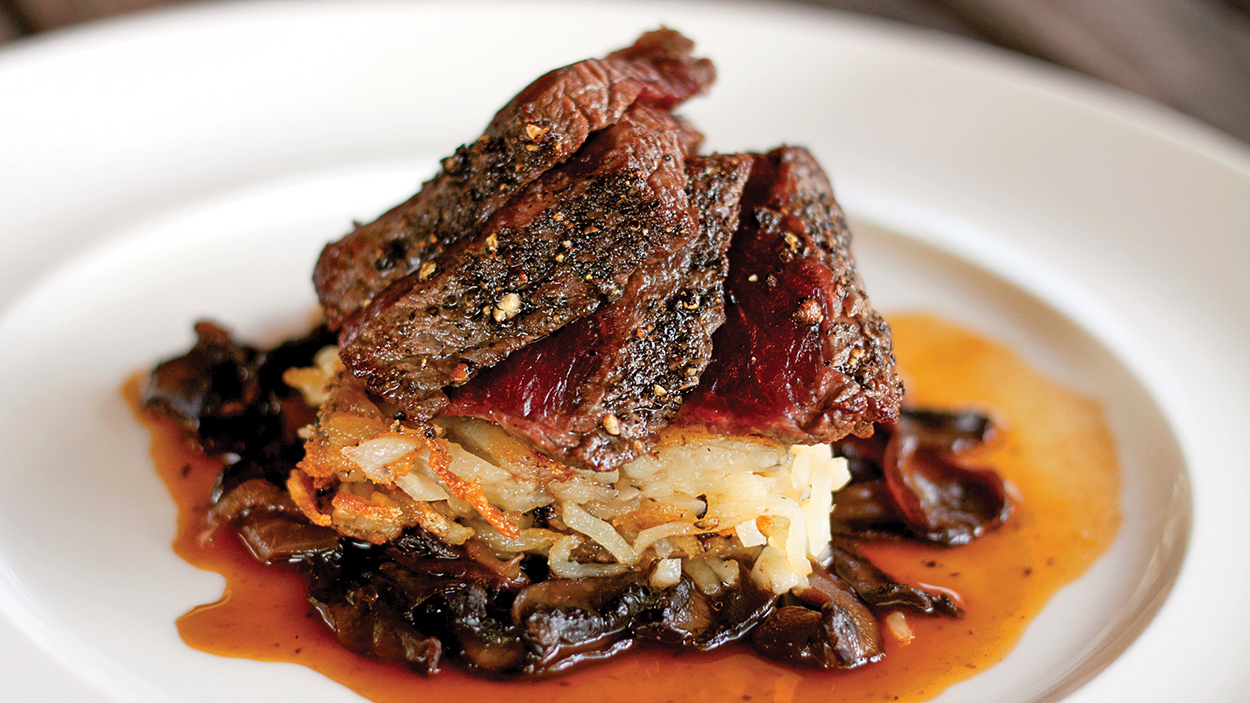 Written By: Marlene Osteen | Issue: 2021/05 – May
The bounty of Fisher Vineyards' sun-drenched slopes will complement the meal composed by Master Chefs Chris Hall and Matthew Basford at The Farm at Old Edwards, May 21. For more information and reservations (a must), visit OldEdwardsHospitality.com/FisherVineyards.
---
For those of us consumed by visions of food and wine, the upcoming Top Chef Dinner on Friday, May 21, at The Farm at Old Edwards is a portal to fantasy. A gourmet's extravaganza – the night presents a chance to sip the astonishing wines of California's Fisher Vineyards while chatting with vintner/co-owner Rob Fisher.  
The meal, a veritable feast from two of Atlanta's acclaimed chefs – Chris Hall of Local Three and Matthew Basford of Canoe.  A self-taught cook, Hall grew up around the corner from Local Three, and was schooled in kitchens from Philadelphia's Le Bec Fin to Atlanta's Canoe.  Matthew Basford draws on his years of experience cooking in his native Australia and then in New Orleans at Dominique's in the Maison Dupuy Hotel.
The menu begins with a symphony of luscious bites:  Steelhead Tartar, Beaux Bridges Crawfish, Grilled Georgia Shrimp, and Pate de Foie Gras Gougères – paired with the winery's bright and zippy Unity Rosé.  
Each course on the served menu is a taste of the delicious. The Fisher Mountain Estate Chardonnay that debuts the first served course, Basford's succulent Butter Poached American Snapper strewn with chunks of smoked avocado, showcases the wine's lovely translucence and almond flavors.  
Hall's dish of Spiced Tennessee Rabbit served with a surprising vernal salad composed of Fava Beans and Spring Peas follows, a graceful balance to the expressive Fisher Unity Pinot Noir.  
My mouth waters at the description of the third course –  Basford's Roasted Australian Lamb Rack, with an earthy multicomponent side of Eggplant, Maitake, and Baby Beets – an iconic coupling with the highly rated 2005 Fisher Vineyards, Wedding Vineyard, Cabernet Sauvignon poured from magnums.  The wine's described by the critic Robert Parker as, "being able to provide immense enjoyment with its beautiful fruit, and abundant texture."    
Steak lovers are certain to revel in the fourth course of Hall's Marinated Hanger Steak with Caramelized Onion & Spinach Risotto. It's a dish crafted to enhance the "dark, dense and explosive" dimensions of the 2016 Coach Insignia Cabernet Sauvignon. 
For dessert, Basford's Double Chocolate Tart with Blue Smoked Ice-Cream and Hazelnut, offers an explosion of flavors – a luscious ending to a glorious meal. 
For more details and to book dinner  visit OldEdwardsHospitality.com/FisherVineyards.
The same weekend, Fisher Vineyards will be at Half-Mile Farm for a hosted weekend, May 21-22 (complimentary for Half-Mile Farm guests and includes): Friday social hour with live music, hors d'oeuvres and a Fisher Wine tasting station, Saturday sit down tasting, and Saturday social hour. Check availability at HalfMileFarm.com.
---

Fisher Vineyards Dinner at The Farm at Old Edwards
Join us at The Farm at Old Edwards in beautiful Highlands, North Carolina for a Top Chef Dinner featuring the extraordinary wines of Fisher Vineyards, which produces wines from both Napa...
---